What Positions Did Michael Jordan and Kobe Bryant Play?
Published 04/05/2021, 12:38 AM EDT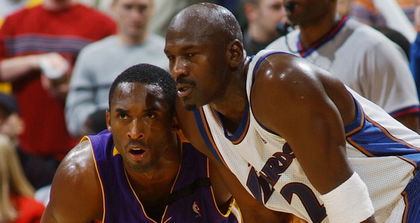 ---
---
The NBA has moved more towards "versatile-position" basketball. This means that all positions are capable of shooting, handling the ball, and passing at an elite level. A player who can adjust to different positions on the court is more likely to be picked than someone who can only play one position. Well, did you know that both Michael Jordan and Kobe Bryant did not play a single position?
ADVERTISEMENT
Article continues below this ad
Even back then, the best players were also moved around as and when required. Let's have a look at the different positions Jordan and Kobe played at.
Kobe Bryant and Michael Jordan positions
ADVERTISEMENT
Article continues below this ad
Shooting guard
Before getting into why both Jordan and Kobe were shooting guards, it is important to understand what this position does. The shooting guard's focus is to score for the team and grab the ball on defense.
This position is supposed to be the most volatile and fastest. No wonder Kobe Bryant and Michael Jordan played it.
This was also the position they spent most of their career playing at. A desire to score higher and higher each time for their team made them both perfect fits for this spot.
In fact, it is uncanny how similar both their styles of playing at this position were. However, it is fair to say that Kobe came up empty a little more than Jordan.
Small forward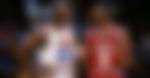 The small forward position is for defense and is also the top scorer of the team. Only an all-rounder player can fill this position, like Jordan and Kobe. Both of them had their own reasons for moving to small forward from being a shooting guard.
MJ became a small forward when he started playing for the Washington Wizards from 2001 to 2003. He could not play the shooting guard because he was no longer as explosive as he was when he was playing for the Chicago Bulls. Undoubtedly, Jordan impressed everyone even by playing at this mid-range position.
Kobe, on the other hand, had to shift to playing small forward because of young players being added to the Lakers. The more youngsters joined the Lakers, he had to adapt to suit the team's additional guards.
Point guard
Only MJ was seen playing as a point guard. A PG's job is to understand who the right player is to pass the ball to and will bring the most points for them.
While the PG defends, his other teammates need to be prepared to receive the ball. Thanks to Jordan's athleticism, size and high IQ, he excelled in this position as well.
ADVERTISEMENT
Article continues below this ad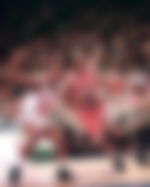 There is no doubt that whatever position they were given, Jordan and Kobe nailed it. They were considered the greatest players to ever walk to court for a reason. What position do you think they played best?
Read also- Mychal Thompson Revisits How Michael Jordan and Kobe Bryant Were Similar to the Late Elgin Baylor
ADVERTISEMENT
Article continues below this ad