'What's the Point?'- De'Aaron Fox Not Excited About 2021 All Star Game
Published 02/04/2021, 11:00 AM EST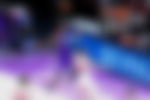 ---
---
De'Aaron Fox is elevating into one of the top stars of the NBA. While he may not be a top pick for the 2021 All-Star Game, he definitely is well on his way to making a lot of them in the future. He signed a max contract on his rookie contract with the Sacramento Kings, cementing himself as the cornerstone of their rebuild.
ADVERTISEMENT
Article continues below this ad
The NBA and NBPA have gone out of their way to arrange an all-star game this year. We initially were told that there will be all-star teams, but no game. Now the NBA has added an all-star game, for which De'Aaron is not excited.
De'Aaron Fox on the possibility of an All-Star Game this season: "I'm going to be brutally honest, I think it's stupid. If we have to wear masks and do all this for a regular game, what's the point of bringing the All-Star Game back?"

— Jason Jones (@mr_jasonjones) February 4, 2021
ADVERTISEMENT
Article continues below this ad
The all-star game is one of the biggest events of the year. While the game with the two teams of all-stars is the main attraction, there is a lot more to it. The crowds that come out for all-star games are some of the best. With a condensed schedule and COVID positive cases derailing some teams, having an all-star game does seem a little risky.
De'Aaron Fox: Raising a valid point
While Fox may be completely justified with his concerns, there are plenty of reasons for why the all-star game will happen. It is one of the biggest media events for the NBA. The advertising revenue just off that game alone, even if completely digital, will help the league absorb the impact that COVID has already had on their finances.
ADVERTISEMENT
Article continues below this ad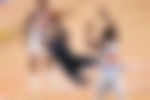 However, that doesn't mean COVID is gone and that the NBA can make moves like this. They will have to pray and hope that not even one team has any issues with COVID. If that happens, one player could affect multiple teams through contact tracing protocol. Is it worth that risk for every team?
ADVERTISEMENT
Article continues below this ad
But it will still be exciting to have the all-star games. Fans will never say no to a contest that pits the league's best against each other, especially after the success of last year's game. While De'Aaon Fox rightfully doesn't like it, the league will push to ensure they can pull this off.