"What's This in Reference To?": Kevin Durant's Latest Bizarre Post Sends NBA Fans in a Tailspin
Published 05/25/2022, 10:30 PM EDT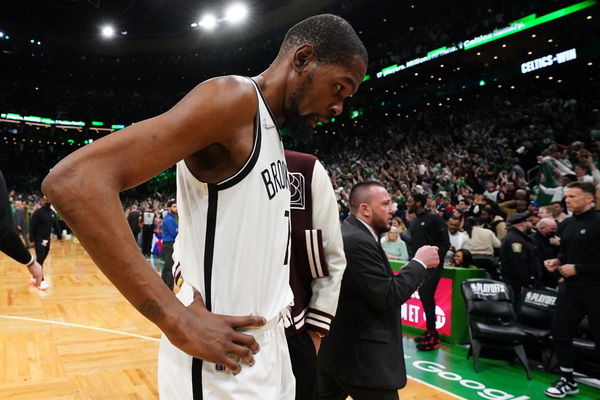 It's very well known in the NBA community that Kevin Durant is very active on social media. He posts content regularly, and he is not afraid to express his opinions. But this time he put something so bizarre that it's leaving fans puzzled.
Durant regularly responds to fans, and when he doesn't agree, he claps back at them. He also takes digs at media personnel for their takes. But today he posted something very confusing.
ADVERTISEMENT
Article continues below this ad
He posted a GIF that showed a room full of people lifting the number 10 up. And he added a quote saying, "Add em up." No one knew what this was in reference to and this sent fans into a frenzy.
NBA fans are going nuts after the latest tweet from Kevin Durant
The NBA fans could not understand what Durant was trying to say. And this sent them into a tailspin. Many came up with interesting theories and memes. Here are the best reactions:
Kevin Durant's Career:
-3x Been on a superteam ✔️
-3x Played with an MVP✔️
-2x Been Injured ✔️
-2x lost in the finals ✔️
-1x Owned By LNU✔️
-0x been the best player in the NBA ✔️
-0x been the best player on his team✔️
-0x won a real ring✔️

Weakest Subpar Star in sports history

— MONK FANATIC (@therealselena23) May 25, 2022
you held the warriors back lil bro

— SAGE (@MasterSage_) May 25, 2022
you couldn't win without Kyrie and Harden😭how you get 1 win in the playoffs in 2 seasons with that team

— KimoLBJ ʰᶦᵐ (@KimoLBJ_) May 25, 2022
Does all this add up to amount of finals loses LeBrons has?

— Temporary Warriors🌉 and 76ers Fan🔔 (@offcialj0nn) May 25, 2022
KDisney Leaked Album Tracklist! 🐍
1. Valueless Rings
2. Cupcake (ft. EDP445)
3. Swept
4. Bricks (ft. Westbrick)
5. Snake 4 Life
6. 3-1 Leads (ft. Thunder)
7. Thank You Curry
8. Thank You Warriors
9. Can't Beat Em Join Em
10. My Next Chapter (Outro)

— MONK FANATIC (@therealselena23) May 25, 2022
ADVERTISEMENT
Article continues below this ad
How did the Nets fare this season?
After last season's playoff performance, the Nets were still one of the favorites to win it all. And they started like that. The Nets were on the top of the East at Christmas. But then Durant got injured. And with Irving not being allowed to join the team, the onus fell on Harden. And he tried to carry this team alone, but he wasn't in his best shape.
WATCH THIS STORY: Does Klay Thompson have a girlfriend? 
ADVERTISEMENT
Article continues below this ad
And later he was traded to the Sixers in exchange for Ben Simmons. By the time Durant returned, the Nets were in the play-in position. And they had to deal with some more injury problems as Durant went down again. Despite that, whenever Durant played, the Nets felt like a contender and they were one of the top teams.
But in the playoffs, they ran into the Boston Celtics. The Celtics shut down Durant and Irving for the majority of the series and the Nets were swept. They played excellent on both sides of the floor and ended the Nets' run. The Nets will be back next season, with Ben Simmons in their lineup and they will again be one of the top teams next season.
Edited By: Arunaditya Aima