'What's Up You Little B***h': Allen Iverson Reveals The First Conversation With Michael Jordan In NBA
Published 05/12/2021, 6:12 AM EDT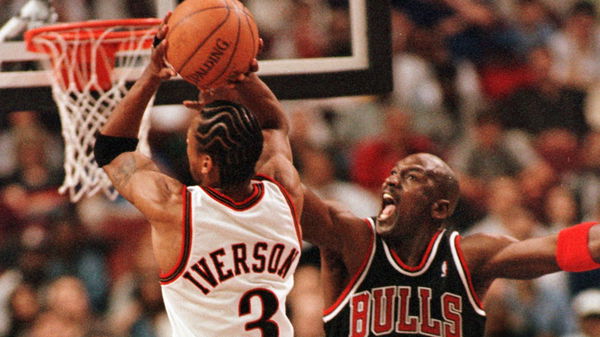 ---
---
Michael Jordan was arguably one of the best to ever play the game of basketball. Be it his ability to lead a team with his scoring or his ability to take over the game in high-pressure situations, MJ proved himself at every turn.
In the 1980s and 90s, the NBA was a rugged league. With hard-nosed defending and trash-talking, the league was very different three decades ago. Jordan was a dominant player on both ends of the court, and 'His Airness' never shied away from on-court banter. In fact, Jordan was one of the finest trash talkers in the league. Be it him mocking legendary center Dikembe Mutombo by making his free throws with his eyes closed to him still mocking Patrick Ewing for his lack of rings, MJ didn't spare anyone.
When Michael Jordan trash-talked with a rookie Allen Iverson
The 1996 draft class was one of the most stacked classes the league has ever seen. With players like Ray Allen and Kobe Bryant, the draft class was brimming with talented players. But the biggest player at the time of the draft was guard Allen Iverson.
Coming out of Georgetown, AI was must-watch TV and despite his lack of size, he was a menacing presence on the defensive end. Taking inspiration from Jordan himself, AI gave it his all on the court every time he stepped on it.
So when a rookie Iverson faced off against Jordan and the Bulls, there was a lot of hype surrounding the game. In an interview with Complex Sports back in 2018, AI spoke about the first conversation between him and MJ. He said:
"The first time I ever talked to him was that year, playing in the rookie game. I'll never forget it because he said, 'What's up, you little bi**h?' I'll never forget it. I looked at him like — all right man."
This goes to show that the GOAT didn't spare anyone on the court. While MJ might have dominated in the early years of AI's career, a rookie Iverson had one of his most iconic moments when he pulled off a cross-over on Jordan.
Iverson might not have the biggest trophy cabinet, but his tenacity as a player and his ability to take the game head-on left a massive impact on the league. Where do you rate AI on the all-time guard list?