'When His Superstars Don't Play the Team Struggles'- Former NBA Champion Questions Warriors' Steve Kerr's Coaching
Published 04/03/2021, 11:19 AM EDT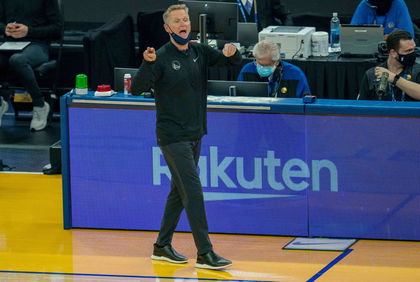 ---
---
The Golden State Warriors look to be going through their second season of mediocrity. After dominating the league for 5 years and winning 3 NBA Championships, the Warriors saw their team implode in the 2019 off-season. After a Finals loss to the Toronto Raptors which saw Kevin Durant and Klay Thompson get hurt, the team was overhauled.
ADVERTISEMENT
Article continues below this ad
Veterans like Andre Iguodala and Shaun Livingston left the team. However, the bigger blow was Kevin Durant leaving for the Nets.
With a revolving door of players, new draft picks, and Thompson getting hurt again, the Warriors are looking bad. They are in the Western Conference play-in race but aren't expected to make a deep playoff run. Kendrick Perkins knows who to blame.
ADVERTISEMENT
Article continues below this ad
I'm starting to question Steve Kerr coaching because when his "Superstars" don't play the team struggle to compete let alone win a game!!! IMHO Carry on…

— Kendrick Perkins (@KendrickPerkins) April 3, 2021
While Steve Kerr's situation was extremely favorable, it isn't fair to say that this current situation is his fault. The injuries and departures were hard to deal with, considering how quickly they happened. But they still have Steph Curry and Draymond Green, along with a core of solid rotational players. So, is Kerr to blame for the last two seasons?
Warriors: Is Steve Kerr overrated?
The system that Kerr played the Warriors under was extremely effective. Getting a collection of talent is one thing, but putting them together to be effective is another.
Last season, the Warriors were absolutely beaten down with injuries. That led to the worst record in the league and the #3 pick, but James Wiseman is developing slowly.
This season is a little less inexcusable. They still have one of the greatest players in the game playing big minutes.
ADVERTISEMENT
Article continues below this ad
However, the collection of talent around him has just not coalesced. How much of a difference would getting Klay Thompson back achieve if the team is already struggling like this?
The NBA is taking revenge on the Warriors for their years of domination. Along with that, teams have caught up to the Warriors style, which was ground-breaking when it surfaced.
ADVERTISEMENT
Article continues below this ad
People hailed Kerr then, so maybe we shouldn't jump off the bandwagon for the coach just yet. But, a 53-point loss is rarely excusable, and Kerr is facing the heat for it.