When is Lakers' LeBron James Expected to Return After Re-injuring Himself?
Published 05/05/2021, 9:30 AM CDT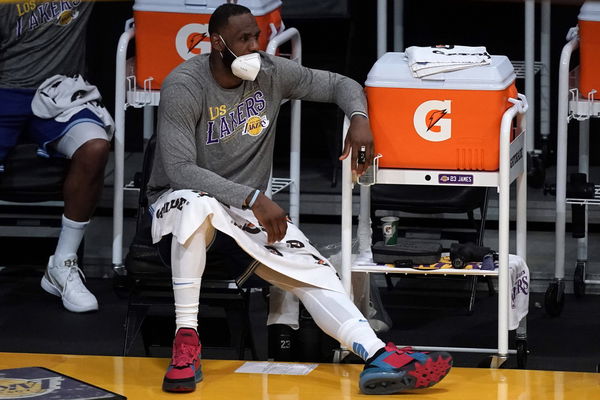 ---
---
The Mavericks, the Lakers, and the Blazers are fighting a very closely-knit battle to stay safe inside the top six. If they drop below that, it will be somewhat of relegation and the teams will have to battle it out to earn a spot in the playoffs. 
ADVERTISEMENT
Article continues below this ad
Now, the prime concern for the Lakers is their worsening health issue. It was after almost 2.5 months that both LeBron James and Anthony Davis had hit the court as a duo. Although they lost both comeback battles that they played together, they were at least there for the team. But now, after Bron's second injury, the dark clouds are again hovering over LA.
When will LeBron James be back?
ADVERTISEMENT
Article continues below this ad
The Akron Hammer again hurt his right ankle in the game against the Raptors. The soreness in that sensitive ankle forced him to leave the court in pain and not return. Now, as per fresh reports, King James won't play the Lakers' next two crucial ties against the Clippers and the Blazers.
Without Bron, defeating the #3 Clippers will be a mammoth task for Anthony Davis and his men. Plus, when they battle against the Blazers, it will most probably be for that silver-plated sixth seeding and that too is going to be a tough outing with just five games left after the battle with the Blazers. 
Read also – Former NBA Champion Rejects LeBron James' Comments on the Play-in Tournament
What can the Lakers do if Bron misses more games?
ADVERTISEMENT
Article continues below this ad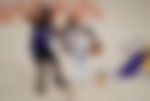 After Bron re-injured himself, the Lakers management won't rush his return under any circumstance. It was already strange to hear from the 36-YO that he believes getting back to 100% is impossible. Even established Sports Medicine experts like Dr. Brian Sutterer were doubtful about Bron's comments.
In LeBron's absence and assuming Dennis Schroder doesn't return until the play-ins/playoffs, the Lakers must devise a strategy keeping the worst in mind. Coach Frank Vogel will want Kyle Kuzma and Alex Caruso to step up and fill in the offensive need. Plus, he must consider bringing Marc Gasol up and allow him more minutes, given his performance against the Nuggets. Last but not least, the focal point will be Anthony Davis, who must keep fit and handle the games from both ends as a leader.
ADVERTISEMENT
Article continues below this ad
It might be too much of an ask, but that's how champion teams work under calamity. Do you think the Lakers can pull through without Bron?