When LeBron James Beefed With New Lakers Teammate Trevor Ariza During Their High School Days
Published 08/06/2021, 2:30 PM EDT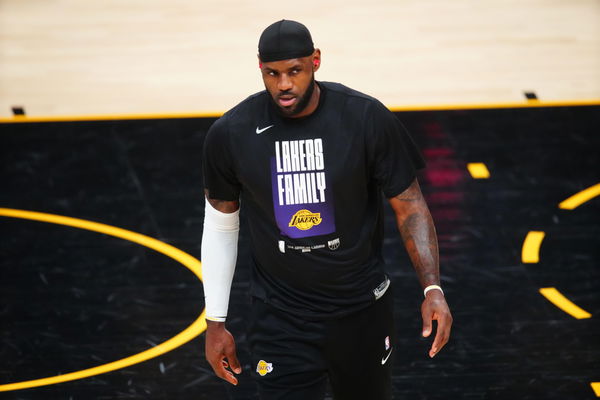 ---
---
Amongst the flurry of moves that the Los Angeles Lakers have made this season, one of them has helped them land their former player Trevor Ariza. While most would think about how Ariza fits within this team, the bigger concern should be whether he will get along with his superstar teammate, LeBron James. The two of them go way back and developed a bitter relationship that has lasted almost 15 years. Here's what went down between the two high school basketball aspirants.
ADVERTISEMENT
Article continues below this ad
LeBron James and Trevor Ariza infamous beef
ADVERTISEMENT
Article continues below this ad
Looking back at their senior year in high school, LeBron was already the most hyped-up prospect in NBA history. But Ariza wasn't quite bad himself and actually came to the top 20 players in the country in 2003. From being on the cover of Sports Illustrated to all his games being made available live for fans in high school as well, jealously from other players was only natural.
So, when these two finally met on the court, the level of excitement was sky-high. Even though their matchup was like any other game for Bron, Ariza admitted in pre-game interviews he could defeat 'The King', and take his throne. But the trash-talking didn't stop there. Ariza's uncle also got involved who called Bron "overrated."
He stated, "I don't know why LeBron James gets all the publicity. My nephew, Trevor Ariza, is better than he is." But Trevor was about to find out that he could never reach the pedestal LeBron was at. So, when St. Vincent Mary vs Westchester went down, LeBron ended up scoring as much as Trevor's entire team.
Just after the first quarter, LeBron already had 18 points. By halftime, it was 35 and towards the end of the third quarter; he had 49. Bron's team was actually holding a 10 point lead over them. Finally, he torched Ariza with his 52 points, defeating his team 78-52. Ariza finished with only 12 points and went on to say, "There was nothing we could do."
WATCH THIS STORY: LeBron James Describing What it Was Like Meeting Michael Jordan For The First Time
Now the Lakers have both these players
ADVERTISEMENT
Article continues below this ad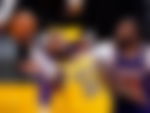 It's been almost two decades that the two have been playing in the league. Of course, they have crossed each other's paths and haven't been on the best of terms. But now they have to put it all behind them since they will share the court as teammates.
The Lakers brought in Trevor to build a better roster around their new 'Big Three, Russell Westbrook, Anthony Davis, and LeBron. It also includes veterans like Dwight Howard and Carmelo Anthony.
ADVERTISEMENT
Article continues below this ad
However, Trevor isn't a new player in the Lakers per se. He played for the purple and gold from 2007 to 2009, but then Bron wasn't part of the franchise. So, can the two get past their rocky past?