When Michael Jordan Had Kobe Bryant Mute for Two Weeks: "You Can Wear Them But…"
Published 03/11/2023, 6:30 AM EST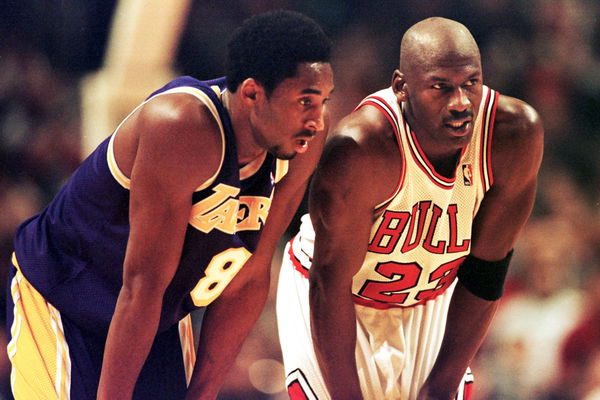 Los Angeles Lakers legend Kobe Bryant rarely let anyone get the best of him. He put the time in the gym to outperform anyone he played against. Be it Chicago Bulls legend, Michael Jordan as well. However, there was a time when Jordan had a few words for the young Kobe Bryant during his time with the Wizards, which led him to stay absolutely silent for two entire weeks until he got his word in. And that too by outperforming MJ.
A throwback story told by former Washington Wizards star Gilbert Arenas has been making the rounds on social media. It is about when MJ played for the Wizards and somehow managed to tick off the young 'Black Mamba.'
When Michael Jordan had Kobe Bryant on mute
ADVERTISEMENT
Article continues below this ad
Gilbert Arenas recalled a story of a matchup between the almost 40-year-old Michael Jordan and a young Kobe Bryant. In the interview, the host mentioned the incident during one of their last matchups. Jordan won that matchup while Kobe was wearing 'Jordan 8's.'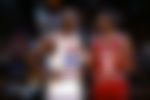 After the game, Jordan smacked Bryant on the butt and said, "You can wear the shoes but you'll never fill them." Arenas revealed what happened after that. He said, "So what happened next is, during that time after Kobe got, so Kobe didn't say anything to anybody. So, for like two weeks they said, Kobe was just mute."
He continued, "Like, he didn't talk to his players, didn't talk to his teammates. Just, they said he was in a, like, focus mode. Like it was straight. Like practice was just so intense. Right? So, the players were like, 'yo is he mad at us? Did we do something to him?'"
ADVERTISEMENT
Article continues below this ad
"And then Phil(Jackson) was like, 'no, no, no, no, no. Jordan told him, you can wear the shoes but you can never fill them.' And they were like, 'oh sh*t, when do we play them again?' They were like, 'yeah we play them in a few days.' And that's the game when Kobe had like 55," added Arenas.
How the Black Mamba got his revenge
Even though Kobe Bryant reached out to Jordan for tips to improve his game, he always had that competitive spirit in him. Despite the two developing a mentor-mentee relationship, those words from 'His Airness' really touched a nerve, which led to Bryant's outburst in their next matchup.
ADVERTISEMENT
Article continues below this ad
Watch This Story – Dennis Rodman, Kobe Bryant, Michael Jordan, and other NBA stars who have featured in TV shows
Kobe Bryant scored 55 points, shooting 9-13 from beyond the arc and 15-29 from the field. Whereas, Jordan had 23 points. The game ended with a final score of 108-94, with the Lakers going home with the win. If Kobe hadn't earned MJ's respect before, he definitely earned it that night.
Edited By: Pragya Vashisth