Where is Michael Jordan from? His Childhood, Ethnicity, and Origin
Published 05/02/2021, 5:30 AM EDT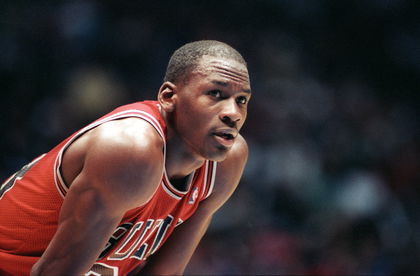 ---
---
Michael Jordan is undoubtedly that one name that a hermit living on a secluded island can also recognize. He is synonymous with basketball and indispensable to the sporting world. After ruling the last two decades of the 20th century, the man is now taking the young generation by surprise with documentaries and articles on him.
ADVERTISEMENT
Article continues below this ad
The 14x All-Star, 10x scoring leader, 6x NBA Champion, 5x MVP, and 3x Steals champ, MJ is a walking book of records. So naturally, a lot is out in the media libraries to learn about his professional career. But what about his background and early life before making it to the world's greatest basketball league?
Early life of Michael Jordan
ADVERTISEMENT
Article continues below this ad
His Highness Air Jordan took birth on February 17th, 1963 in the city of Brooklyn, NY. The balling prodigy was one of the five children of Deloris and James Jordan, destined for path-breaking success.
When MJ was still under seven years of age, his family moved to Wilmington, a rural port city of North Carolina. It's stunningly impossible to believe that Jordan failed to find a seat in his high school varsity basketball team as a sophomore.
However, he later got selected and then played for the University of North Carolina under scholarship. Winning the Atlantic Coast Conference ROY 1982, MJ established himself as a top-notch NBA prospect in no time. 
It was his visionary and hardworking father who helped a young Jordan keep a distance from street life. His father used to work as a maintenance worker and Supervisor in a General Electric plant while his mother worked at a bank.
Both his parents had to work to help MJ's passion for hooping and also keep food on the table for all the children. All that investment in hard work came fruitful and reaped interest when the Bulls picked MJ #3 in the 1984 NBA Drafts, and he later signed a Nike deal. 
Read Also – Michael Jordan Rookie Year Shoes Could Sell For $110000 On Auction Market
What compelled MJ to pick basketball? The African-American was born for greatness, and the first people to notice were his parents. It's a proven fact that a child's initial years define what he can become in life.
ADVERTISEMENT
Article continues below this ad
James R. Jordan, Michael's father, knew this and introduced his son to the sport of basketball very early. Funnily enough, it is believed that MJ's world-famous 'tongue wag' is also a result of his father's facial contortion that the young kid picked. 
But one can't ignore MJ's mother's influence on the champion. A bank teller, Deloris, taught MJ the basic yet important things like sewing and cleaning. Also, she ingrained in MJ the willpower to never stop in life and the art of staying humble.
Lastly, it was the rivalry with his brother that forced Jordan to get better at the game. Larry Jordan, a year older than MJ, was a taller and stronger figure, who would intimidate Michael in the backyard practices. The two would spend the days in entirety battling to show who is better, and that left a remarkable influence on the Michael Jordan that we know today.
ADVERTISEMENT
Article continues below this ad
So what's your favorite MJ story? Help us know in the comments below.