"Who I Gotta Beat Up?": NBA Legend's Infuriated Wife Ready to Throw Arms After Husband Found Crying in His Office Post- Karl Malone Feud
Published 03/04/2023, 10:10 AM EST

Follow Us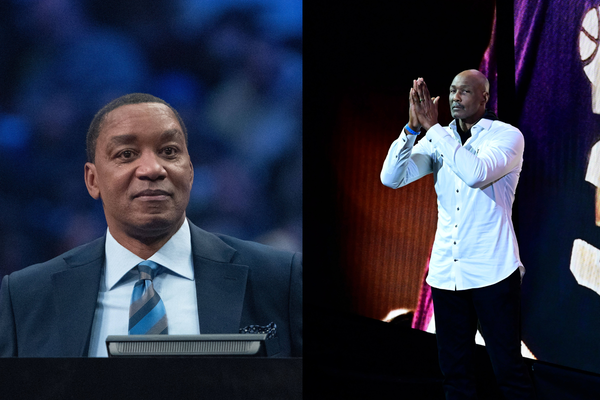 The Detroit Pistons, commonly known as the 'Bad Boy Pistons' during the 1980s and 1990s were infamous for their incredibly physical gameplay. NBA legend Michael Jordan is arguably the most famous recipient of the Pistons' tactics. Leading the Pistons was their point guard, Isiah Thomas. Although he was smaller in stature compared to other players, Thomas never backed off from a fight. The NBA legend once got a taste of his own medicine during a game against the Utah Jazz.
During the first quarter of the game in 1991, Thomas drove the ball brilliantly and was on his way to scoring a bucket but Karl Malone had other plans. He injured him badly which led to a long beef between the two. Unlike other long-lasting beefs in the NBA, Malone and Thomas squashed their differences. Years after this incident, the two NBA legends sat down and revealed what ended their rivalry including an interesting story featuring Thomas' wife.
NBA legend Isiah Thomas reveals wife's reaction to Karl Malone's call
ADVERTISEMENT
Article continues below this ad
Following Karl Malone's vicious elbow, Isiah Thomas needed 40 stitches. Naturally, this caused some bad blood between the two. During an interview, Thomas said, "I don't think he intended to hurt me that bad but he intended to hurt me."
Years after this infamous incident, Malone rang up Thomas and expressed his desire to apologize which was revealed during a featured episode on NBA TV. This made the Pistons legend emotional and he broke down in his home office.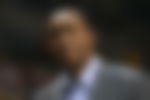 The former NBA champion said, "I was at home in my office and I was crying. My wife walked in and she goes, "What's wrong? Who I gotta beat up?" I was like, no, no it's alright."
Interestingly, even Malone broke down during the call while talking with Thomas. This call happened after 'The Last Dance' documentary where Thomas' rivalry with Michael Jordan was covered extensively.
After Malone's call, Thomas tried to make amends with a Bulls legend
ADVERTISEMENT
Article continues below this ad
While Isiah Thomas was gracious enough to accept Karl Malone's apology, the same cannot be said about Scottie Pippen. Zeke tried to contact Pippen in order to make amends after 'The Last Dance'.
However, Pippen was in no mood for that. In his memoir, the Chicago Bulls legend revealed that Thomas had indeed tried to contact him. "I played in the league for 18 years and there was never a relationship there. I've been out of the league for 15 years, so why now?", said Pippen during an interview when asked why he didn't respond to IT.
ADVERTISEMENT
Article continues below this ad
The two NBA legends never had a good relationship. Due to their numerous differences both on and off the court, Pippen and Thomas still can't stand each other. 
WATCH THIS STORY: 5 times Michael Jordan was straight up mean to famous celebrities
Edited By: Gideon Mathson