Why James Harden Shouldn't Be Considered for MVP Over LeBron James- Former NBA Player Explains
Published 03/02/2021, 8:27 AM EST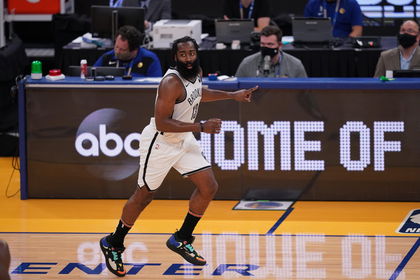 ---
---
James Harden has completely transformed his game after he left the Houston Rockets to go join the Brooklyn Nets after nine years with the former. Since pairing up with Kevin Durant and Kyrie Irving, Harden has become a completely different player. However, he still hasn't impressed people enough to garner MVP considerations.
ADVERTISEMENT
Article continues below this ad
Jalen Rose doesn't think James Harden should be MVP
Former NBA player Jalen Rose spoke on ESPN recently. He noted that people don't consider the fact that James Harden spent a portion of the season with the Houston Rockets. Harden's MVP chances could improve if his numbers stay the same or improve after the return and stay of Kevin Durant and Kyrie Irving.
ADVERTISEMENT
Article continues below this ad
He said, "When KD and Kyrie come back in the second half of the season, everything that people are saying about James Harden's MVP candidacy and being a front runner may be validated. As a voter, I cannot ignore that he played nine basketball games in Houston." 
Rose added that the Nets did not see an immediate improvement after the arrival of James Harden. In fact, their defense had been very poor until recently. They even struggled against league minnows Detroit Pistons. However, he did praise Harden for doing everything that he has to change his style of play over the past few months.
"That's like 15-20% of the regular season. The regular season matters. When he first got to the Nets, they had the all-time worst defense in the league, before they got it together. I sat curtsied and watched them lose to the Detroit Pistons. James Harden, I love the way he has reinvented his game." 
Harden still behind other candidates
Rose noted that Harden is still one of the best players in the NBA, and he has been very strong since his arrival in Brooklyn. But he hasn't been contributing to the level of players like LeBron James and Kawhi Leonard. Both players are examples of several who have been excelling on both ends of the court.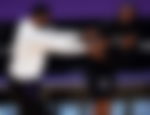 "He's a fantastic player, I voted for him to be MVP before. But you can't ignore the journey. How can he leapfrog a player like Kawhi Leonard who's been doing it all year on both ends of the floor? James is not a defender by the way. Or Joel Embiid, LeBron James." 
ADVERTISEMENT
Article continues below this ad
Rose finally concluded that while Harden has put up solid numbers, they don't stand out in comparison to players like Nikola Jokic or Luka Doncic. Nor has Harden been extremely crucial to a team's success like Damian Lillard or Steph Curry. Which is why he doesn't consider James Harden a legitimate MVP candidate.
"You can look at the Joker, Luka, and Harden – they basically have the same stats. I can't say James to me has been more valuable than Dame Lillard or even Steph Curry when I'm watching games this year."
ADVERTISEMENT
Article continues below this ad
Should James Harden be a candidate for MVP? He has been playing some of the best basketball of his career. And while he has Kevin Durant and Kyrie Irving with him, he has had to play several times without them. He has been a major factor for the Nets' recent upturn in form and improved his team's defensive work rate.