Why Kobe Bryant Preferred the Number 24 Over Number 8?
Published 08/26/2021, 9:26 PM EDT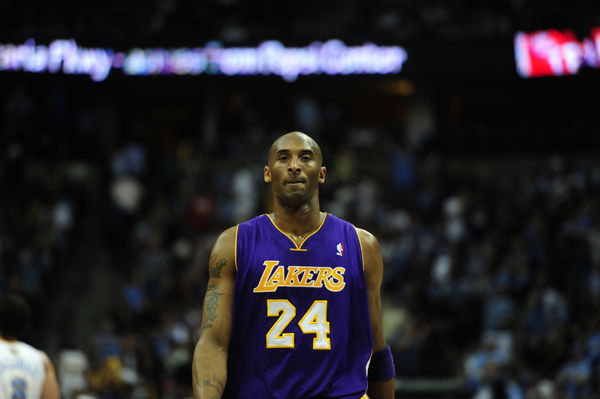 ---
---
Kobe Bryant was arguably one of the best players to ever don the Lakers jersey. In his 20 year stint in the league, Bryant had numerous individual accolades and five prestigious NBA championships.
Given the impact he had on the Purple and Gold, Kobe also became the only player in NBA history who has two of his jersey numbers retired in a single franchise. Be it his iconic number 8 or his number 24, Kobe certainly was world class in both his jerseys.
Kobe Bryant chooses number 24 over number 8
Over the years, many NBA fans have had multiple debates on which version of Kobe was better, the number 8 or the number 24. A year after his retirement, Bryant had his say on the same.
"I think 24 was more challenging and you know. I tend to gravitate to things that are harder to do and physically for me it was really really hard to get up night in the night out man."
The legendary Laker added, "It's a grind.. Taking on the Boston Celtics, having a bone fragment and my foot during that series having a broken finger and muscling through that in back half of the career some of the toughest stretches of basketball ever. So I guess if you force me to pick one, I probably go with 24 because of that."
While Kobe won more championship with his number 8 jersey, he shared the stage with another superstar like Shaquille O'Neal. But once Kobe switched to the number 24 jersey, he truly made his journey towards becoming the 'Black Mamba' who is an inspiration to many.
Wearing number 24 for the first time in the 2006-07 season, the Lakers were clearly a one-man show. Averaging more than 30 points, if not for Bryant's heroics, the Lakers wouldn't have made it to the playoffs.
Not only 'Black Mamba' lead the team to playoffs, in the next season he led the Purple and Gold all the way to the Finals. Despite suffering from multiple injuries, Bryant continued to lead his team on both ends of the floor.
After a brutal Finals loss, Kobe was back at it again. Unlike his first three titles, there was no doubting who the Finals MVP in the next two titles as Bryant ended up with 2 Finals MVP trophies. Given all the hardships and all the achievements Kobe had with the number 24 jersey on, it is no surprise why the late Lakers' legend chose the same.