Why Lakers' Jared Dudley and NBA Twitter Lost Cool Over Brandon Marshall Comments on Guaranteed NBA Contracts?
Published 04/08/2021, 11:25 PM EDT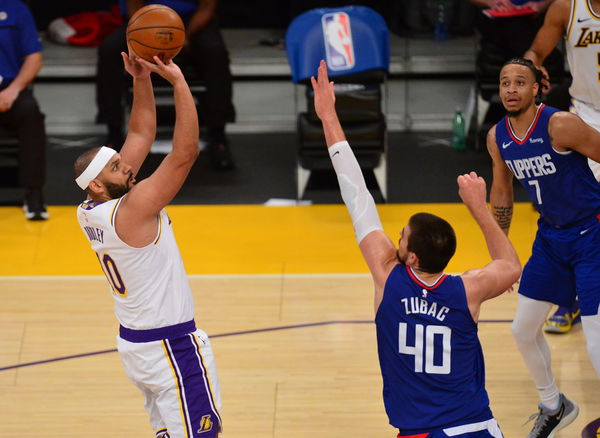 ---
---
Former NFL superstar Brandon Marshall recently caused a stir in the NBA community with a pretty intense rant about the contracts given to the players in the league.
ADVERTISEMENT
Article continues below this ad
In an appearance on his podcast, I am Athlete, Marshall, while arguing with co-hosts Channing Crowder and Chad Johnson, about the difference between the contracts in the NFL and NBA, had a pretty bold take.
ADVERTISEMENT
Article continues below this ad
Speaking about contracts in the NBA, Marshall explained how only a handful of players in the league have guaranteed contracts. "Not everybody that's on an NBA roster has a guaranteed contract…There's four guys on an NBA team that got guaranteed contracts and everybody else can be cut today and don't got nothing." 
Given how passionately the 37-year-old spoke about the same, one might be swayed away by the former NFL superstar, but is he correct with this latest take?
Is Brandon Marshall right about NBA contracts?
While Marshall's conviction to his take is commendable upon simple research, it is clear that his latest take about contracts might not be the complete truth.
According to the latest edition of the Collective Bargaining Agreement of the NBA, which was decided in the year 2017, the NBA has majority of its players under guaranteed contracts.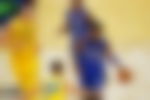 The only players who are under non-guaranteed contracts are players who have signed two-way contracts or 10-day contracts. These are generally the players who are either at the end of their long careers or inexperienced players with minimal experience at the highest level.
If these players can impress the teams, they can guarantee themselves with better contracts.
Lakers' Jared Dudley reacts to Marshall's contract
Given how viral Marshall's latest take became, NBA twitter was at its best to troll the 37-year-old. Players like Jared Dudley, D'Angelo Russell, and Lou Williams also reacted to the same.
🤦🏽‍♂️🤦🏽‍♂️🤦🏽‍♂️ This man can't be serious??? 95% of players have guaraenteed contracts… Sometimes 1 person per roster will sign a partial with a later date to either being cut or signed for the remainder of the season.. Only top Elite QBs have similar NBA deals https://t.co/9K9j1Mwlzg

— Jared Dudley (@JaredDudley619) April 6, 2021
This the platform you should be educating the world on! @JaredDudley619 we can go up there together

— D'Angelo Russell (@Dloading) April 6, 2021
The NBA community also reacted to the former Bears wide-receiver.
ADVERTISEMENT
Article continues below this ad
ADVERTISEMENT
Article continues below this ad
The latest take by Marshall certainly disturbed the hornet's nest. What according to you is the most outrageous take about the NBA ever?
Trending Stories