Why Matt Barnes Agrees with Kevin Durant is More Gifted Player than Michael Jordan
Published 06/26/2021, 12:30 PM EDT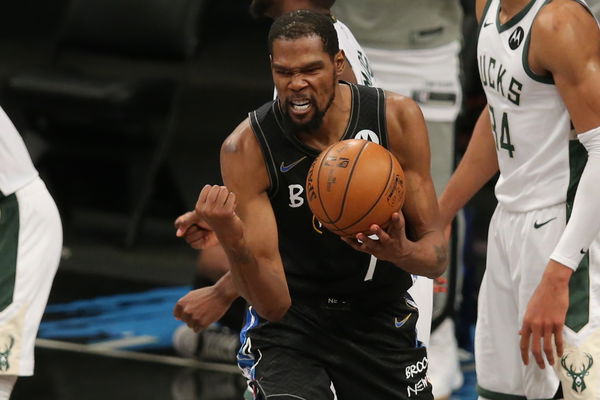 ---
---
Kevin Durant, in his 14th season, is all set to go down as one of the greatest scorers in history. Durant has showcased his raw scoring ability, torching the opposition on the hardwood, in Oklahoma City, Golden State, and Brooklyn. These exploits have earned him a place in the greatest scorer conversation, besides none other than Michael Jordan!
ADVERTISEMENT
Article continues below this ad
Durant's marksmanship also earned him the validation of his nickname 'EasyMoneySniper', which saw him dominate the scoring of the basketball from any given spot on the offensive end.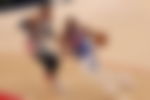 ADVERTISEMENT
Article continues below this ad
Has Durant ascended to the Michael Jordan level?
Comparisons between MJ and Durant have gained momentum recently, following KD's virtuoso performances against the Milwaukee Bucks in Games 5 and 7 of the 2nd round. A combination of 49/17/11 and 48/9/6 outings in Game 5 & 7 was nothing short of staggering, given Brooklyn's injuries.
These performances also were significant in KD shutting down slanderous nay-sayers, who questioned his ability to win without another superstar. But it went further than that! His performances in the 2021 playoffs, also saw him receive praise from former coach Steve Kerr.
Even though KD missed the 2019-20 season with an Achilles injury, he showed no signs of rust in his return. The superstar over his career has amassed 23,883 points while averaging 27.0ppg/7.1rpg/4.2apg, shooting it at close to over 49.8% from the field. In comparison, MJ averaged 30.1ppg/6.2rpg/5.3apg, shooting it at 49.7% from the field.
Hall of Famer and 8-time champion Steve Kerr has been part of multi-franchise dynasties, in his career as a player and then as a coach, so he knows a generational star when he sees one! Kerr was part of the Bulls' historic 2nd 3-peat in 1996-1998 with Michael Jordan and a 3-time champion as a coach with Golden State.
In an interview as a part of Popovich's Team USA coaching staff, Kerr called KD a more gifted player than MJ, in terms of his scoring ability.
Kerr's comments led to extensive debates all over the country, with NBA analysts swarming in to take sides. The debate also saw ESPN celebrities like Stephen A. Smith give his opinion on ESPN's First Take.
Matt Barnes on the KD v MJ comparison
NBA veteran and podcast host Matt Barnes fielded a question about the debate, to which he backed Steve Kerr's views saying – "He didn't say a better player. He just said more gifted. And if you think about it, KD is 7-foot and you can do everything your favorite point guard does. So from someone who played with Michael Jordan, coached Kevin Durant, you know, I definitely respect his point of view."
Barnes further added, "Yeah. he didn't say that, that KD was better than Mike. He just said even more gifted. Anytime you're seven foot with a guard skill set, you're going to be able to achieve a lot."
Watch this story – From Attending NBA Finals To Awarding Michael Jordan A Medal: Best Barack Obama NBA Moments. 
ADVERTISEMENT
Article continues below this ad
Comparisons based on statistics have never told the full story! While Jordan was a 10-time scoring title champion, Kevin Durant has only won the award 4 times. The arguments about skill-sets, their teams, and dependency on scoring, are valid from both ends.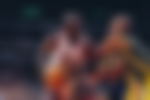 While some highlight the physicality of the game back in the 80s-90s with teams like Indiana, New York, and Detroit, others argue in favor of the perimeter shooting finesse of today's game.
ADVERTISEMENT
Article continues below this ad
And just like the GOAT debate, this discussion will never cease to exist in barbershops and on debate shows all over America. Fortunately, KD still has time on his hands to add to his Hall of Fame career, and a few more scoring titles with Brooklyn will go a long way in fanning a fire that Coach Kerr has ignited.
Trending Stories