Why Was Lakers Legend Kobe Bryant Sad in His Iconic Photo After Winning an NBA Championship With Shaquille O'Neal?
Published 06/16/2022, 7:30 AM EDT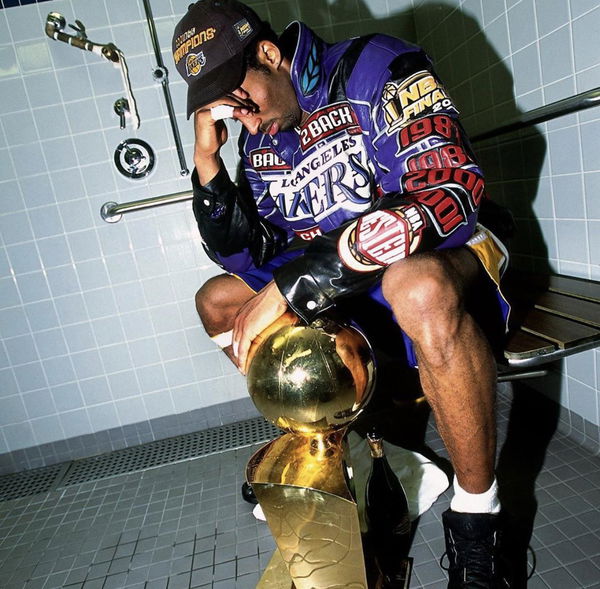 The late great Kobe Bryant was a champion throughout his career. He was a driving force behind the success of the Los Angeles Lakers during the 2000s. Kobe was an elite shooter who modeled his playing style after his idol, Michael Jordan. Winning five championships should be a joyous occasion.
That was the case for Kobe Bryant, for the most part. But there was something strange about his emotions post the NBA title win in 2001. He didn't look happy in the locker room. There were a series of photos taken of him where he looked distraught. The NBA trophy he had alongside him didn't seem to offer him any solace.
ADVERTISEMENT
Article continues below this ad
Why was Kobe Bryant so sad? While Kobe should have been celebrating this achievement, instead, he was thinking about his parents and his new wife, Vanessa. To put matters into context, he had recently married Vanessa Laine. They both met each other in 1999 while she was working as a background dancer on the Tha Eastsidaz music video "G'd Up". He was in the building recording his new album. They dated and announced their engagement six months later in May 2000.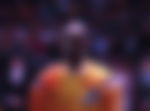 However, the marriage was not attended by his parents, his sisters, his Lakers teammates, and his longtime advisor and agent Arn Tellem. Kobe's parents did not approve of this marriage, according to Sports Illustrated's Chris Ballard. They did not like that he married young and to a woman who was not African American but a Latina.
It put undue stress on his shoulders. Notably, his parents didn't attend the NBA Finals in 2001. This made him distraught and led to this iconic picture being taken more than two decades back.
The Aftermath for Kobe Bryant and the 2001 series
ADVERTISEMENT
Article continues below this ad
This estrangement lasted for two years. In 2003, when Kobe's eldest daughter Natalia was born, his parents started to warm up to him and his wife.
However, this sadness did not help the Allen Iverson-led Philadelphia 76ers in any way. Kobe Bryant was still Kobe Bryant on the court. He averaged 24.6 PPG 7.8 RPG and 5.8 APG in the series against the 76ers. He shot 41.5% from the field and 33% from beyond the three-point line.
ADVERTISEMENT
Article continues below this ad
Watch this Story: WARRIORS VS CELTICS GAME 6 PREVIEW, PREDICTIONS, ODDS
Which NBA Finals performance do you think was Kobe's finest? Let us know your thoughts in the comments below.