Will Anthony Davis Play Tonight? Los Angeles Lakers vs. Phoenix Suns Game 6: Prediction, Injuries, & Lineups
Published 06/02/2021, 9:30 PM EDT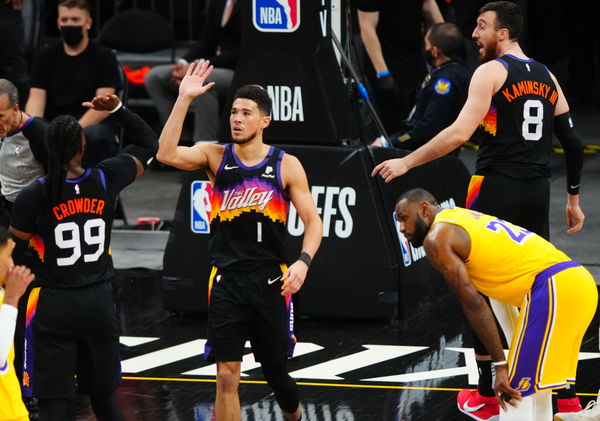 ---
---
The Lakers are in a plight, and the only way out is to put their bodies on the line and somehow save the next two games. For them, round 2 will be an easy climb, and it is important they give their blood, sweat, and tears into Game 6/7. And if they lose, unlike other times, the franchise will face the blame for not reaching deeper enough to meet the Clippers (assuming they're winning).
ADVERTISEMENT
Article continues below this ad
A very balanced and high-potential team in the Suns now stands taller than them. Even halfway through the regular season, Devin Booker had signaled that they're here for the championship victory and not just for a division win. Well, if they pass this hurdle against the Lakers, they're well set for generational glory.
Lakers vs Suns: Injury updates and lineup prediction
ADVERTISEMENT
Article continues below this ad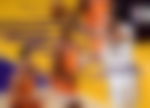 The Lakers still have the same names on the injury list from Game 5. They have star forward Anthony Davis (Groin strain) as a game-time decision.
Plus, they also have shooting guard Kentavious Caldwell-Pope (Knee soreness) as a day-to-day call. Now, even with a struggling KCP and not a 100% fit AD, the Lakers will most probably have them both on the floor, given it's a knockout game.
Probable starting five: LeBron James (F), Anthony Davis (F), Andre Drummond (C), Dennis Schroder (G), and Kentavious Caldwell-Pope (G)
The Suns' official injury list has a pleasant surprise for its followers. Chris Paul was on the list for the last whole week, but they finally deemed him fit. It's just small forward Abdel Nader (Knee injury) who stays out.
Potential starting lineup – Mikal Bridges (F), Jae Crowder (F), De'Andre Ayton (C), Devin Booker (G), and Chris Paul (G)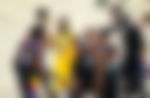 Who wins?
The Lakers took a blowout loss against the Suns in Game 5, and it left a blemish on the spotless postseason career of LeBron James. It had never happened with him that his team would go 30 points down in a playoff game by halftime. And now, if they lose the series, it will again be the first time that his side is forced out in round 1. 
Now, the Lake Show disappointed in Game 5 majorly because of the inactivity from a hesitant KCP aad pathetic play from Dennis Schroder.
ADVERTISEMENT
Article continues below this ad
The Lakers were a disappointment from the defensive end, unable to lock Chris Paul or Cameron Payne. Plus, they appeared searching for Bron throughout the first three quarters, lacking confidence in their shot-making.
On the other hand, the Suns were soaring in the Phoenix Arena, with Devin Booker scoring with ease and De'Andre Ayton continuing his efficient play.
By the looks of it, the Suns have an advantage, but we believe the Lakers will not pack bags in Game 6. 
ADVERTISEMENT
Article continues below this ad
Watch this story – LeBron James vs Jae Crowder and How the Tension B/W Them Escalated During Lakers vs Suns