Will Kevin Durant & Damian Lillard Play? Team USA vs Australia- Tokyo Olympics Basketball 2020: Prediction, Injuries, and Lineups
Published 08/04/2021, 1:48 PM EDT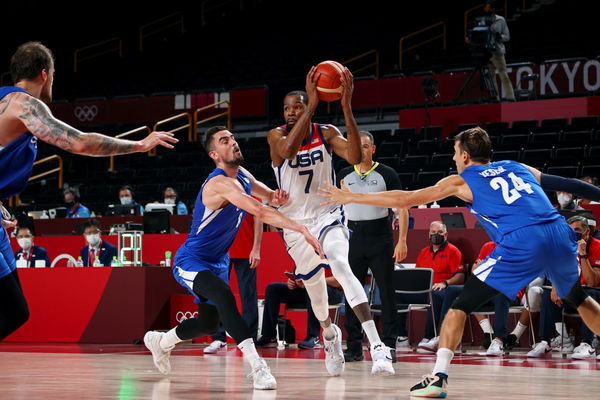 ---
---
Men's basketball in the Olympics is an event where opposition countries battle it out, aiming to play the U.S. juggernaut in the Gold medal game. Or at least it was, until the French ended America's 25-0 unbeaten streak in the Olympics, dating back to 2004. But, following that drubbing, Team USA has exponentially grown with every match.
ADVERTISEMENT
Article continues below this ad
It looks like the United States is finally playing together as a unit. In fact, it was their grit and persistence which shone through in the wins vs Czech and Spain where they trailed early on. But, Australia is no pushover. The unbeaten Kangaroos, having stunned the U.S. in a Vegas exhibition, will take confidence with a trip to the final on the line.
ADVERTISEMENT
Article continues below this ad
Semi-Finals showdown – Team USA vs Australia
Having dealt with a flurry of injury concerns and health and safety violations prior to the start of action, it's been smooth sailing so far for the U.S. since the start of their campaign. Could a lineup change be in order vs the Aussies who have won all their matchups till now?
Could Jayson Tatum, Devin Booker, or Jrue Holiday find themselves in the starting role tonight?
Probable starting lineup – Damian Lillard (PG), Zach LaVine (SG),  Bam Adebayo (C), Draymond Green (PF), and Kevin Durant (SF).
Australia has also ridden their luck thus far, with no injury concerns marring their Tokyo campaign. What do the men from Down Under have in the tank to thwart yet another U.S. Gold run? NBA stars Patty Mills, Joe Ingles, and Aron Baynes, part of the "Boomer Squad" will lace up against the Americans tonight.
Potential starting lineup – Matthew Dellavedova (G), Patty Mills (G), Joe Ingles (F), Nick Kay (F), Jock Landale (C).
The matchup
Australia has been riding high off their unbeaten streak in Tokyo, buying into a "winning basketball" type of mindset. It is no secret that the Aussies are backing themselves, to beat an athletic U.S. who tend to resort to ISO basketball in pressure situations.
With the U.S. only shooting around 39% from beyond the arc against Spain, it will be even tougher against the Aussie defense. While Kevin Durant has been the lord and high savior whenever Team USA has needed a bucket throughout the game, how much load can he bear if it goes south for the U.S.?
ADVERTISEMENT
Article continues below this ad
While many experts wrote the United States off following their shaky start, others like Damian Lillard, Jrue Holiday, and Jayson Tatum have come to the party! With the American all-star talent now seemingly firing on all cylinders, this matchup could define supremacy in international basketball.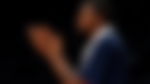 ADVERTISEMENT
Article continues below this ad
The U.S. cannot afford to be caught sleeping in this upcoming matchup. While they were able to recover from early deficits to the Czech and Spanish, Australia's relentless style of basketball will just make it harder tomorrow!
Watch this story – Kevin Durant, Allen Iverson, and Other NBA Players Who Transformed Their Lives