Will Kevin Durant Play Tonight? Brooklyn Nets vs Boston Celtics Game 1: Prediction, Injuries, & Lineups
Published 05/22/2021, 12:00 PM EDT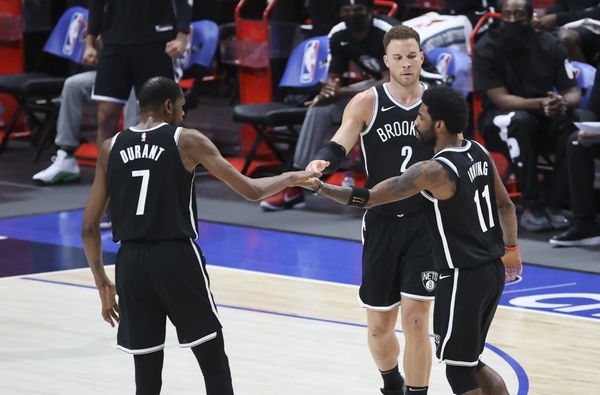 ---
---
The Brooklyn Nets are meeting the Boston Celtics for the first time in a playoff series after 18 years. Entering as the favorites to win the series, the Nets will hold pressure to wind up the series in four games.
ADVERTISEMENT
Article continues below this ad
With this series, interestingly, guard Kyrie Irving is set to play against his former team which he had falsely promised he'd never leave. Plus, a win in this series will pit the Nets in a juicy tie against Bucks/Heat. But before that happens, the important game will be the opener at the Barclays Center. So which side has better odds at winning?
Brooklyn Nets vs Boston Celtics: Injury Updates and Lineup predictions
ADVERTISEMENT
Article continues below this ad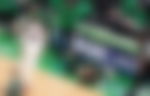 The Celtics are at a huge loss here with their star shooting guard Jaylen Brown out. His wrist surgery finished the season for the 24-YO and gave the Celtics a massive offensive blow. Apart from him, they have center Robert Williams III (foot injury) as a day-to-day decision. 
Probable line-up: Jayson Tatum (PF), Evan Fournier (SF), Tristan Thompson (C), Marcus Smart (SG), and Kemba Walker (PG)
For the Nets, point guard Spencer Dinwiddie (Knee injury) is out indefinitely. Then, the only other name on the list is guard Landry Shamet (ankle) who is a day-to-day decision.
Possible starting five: Kevin Durant (PF), Joe Harris (SF), Blake Griffin (C), Kyrie Irving (SG), and James Harden (PG)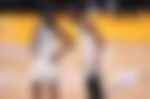 Who wins?
ADVERTISEMENT
Article continues below this ad
It is true that Jayson Tatum is coming off a 50-point game against the Wizards, but the Nets are no Wiz. Even if the Nets' defence falters on Saturday, it will be very difficult to produce one such performance. Also, he will need exceptional offensive help from Kemba Walker and Evan Fournier if they're to stand against the fully stacked Nets. 
For Brooklyn, Steve Nash's men will see the Big Three playing together for the ninth night in 73 games this season. Only if they can work out that chemistry and get in sync, they can blow away the Celtics in a way Brad Stevens might regret.
ADVERTISEMENT
Article continues below this ad
The Nets are #2 even with all the injury issues that kept them from playing their full potential and that proves how they're invincible with everyone healthy and ready. Kevin Durant from the mid-range, Kyrie Irving with his creativity, Joe Harris from the perimeter, James Harden with his playmaking, and Blake Griffin under the rim, crazy.
We predict an easy 8+ points victory for the Nets. Do you agree with the prediction? Help us know in the comments.