Will Kevin Durant Play Tonight? Brooklyn Nets vs Dallas Mavericks: Injury Update, Lineup and Game Predictions
Published 02/27/2021, 12:00 PM EST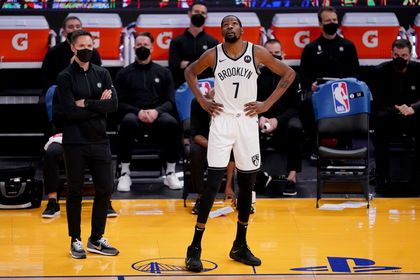 ---
---
In the absence of Kevin Durant, the Brooklyn Nets have hardly suffered. If anything else, they are actually more in the limelight for the spectacular run they are having, even without one of their biggest superstars. On the other hand, we have the Dallas Mavericks, who are slowly but steadily recovering from their slow start to the season.
ADVERTISEMENT
Article continues below this ad
With an eight-game winning streak for the Nets and the Mavs winning seven of their last 10 games, this matchup won't be anything less than gripping. Before Luka Doncic and James Harden lock horns, let's get to predicting.
Brooklyn Nets injury update and lineup prediction
ADVERTISEMENT
Article continues below this ad
Standing second in the East, the Brooklyn Nets just secured their eighth win against Orlando Magic. Even though they started out slow, they eventually got their ducks in line and cruised to a 37 point victory. Their 22-12 record has left them just a game and a half away from taking the top seed in Conference, replacing the Philadelphia 76ers.
This is all thanks to Kyrie Irving and James Harden, who are putting up big numbers every night. In the last matchup, the duo combined for 47 points, 14 rebounds, and 16 assists.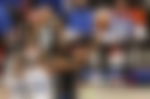 Looking at the way things are going without Kevin Durant, they are not in a hurry to bring him back to the lineup. Other than that, only Jeff Green is questionable for this game because of a shoulder injury.
With that, the predicted lineup would be Joe Harris, James Harden, DeAndre Jordan, Kyrie Irving, and Bruce Brown Jr.
Dallas Mavericks injury update and lineup prediction
Their poor start to the season has left the Dallas Mavericks quite far behind in this season's race. However, they have finally shown some momentum and climbed their way up to the tenth spot in the West.
With Kristaps Porzingis going on and off games because of injuries, Luka Doncic is carrying the weight of the team on his shoulders. They lost their last matchup against the Philadelphia 76ers because of the exorbitant amount of turnovers they had.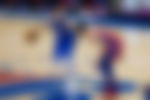 As Porzingis remains probable for this matchup, the Mavs will have to rely on Dorian Finney-Smith, Maxi Kleber, and Dwight Powell for production on the front-court. This isn't the ideal situation for Dallas, but they have no option but to work around it.
ADVERTISEMENT
Article continues below this ad
With that, their predicted lineup would be Josh Richardson, Luka Doncic, Maxi Kleber, Boban Marjanovic, and Dorian Finney-Smith.
Game prediction
If the Mavericks want to cause an upset, they will have to bring their A-Game against the Nets. Until then, the way the nights are going undefeated, they are the clear favorites to come out victorious.
ADVERTISEMENT
Article continues below this ad
Read also- Brooklyn Nets' Big Three Enter Franchise History Books With Triple All-Star Selection