Will Russell Westbrook Play Tonight? Washington Wizards vs Boston Celtics: Prediction, Injuries, & Lineups
Published 05/18/2021, 1:00 PM EDT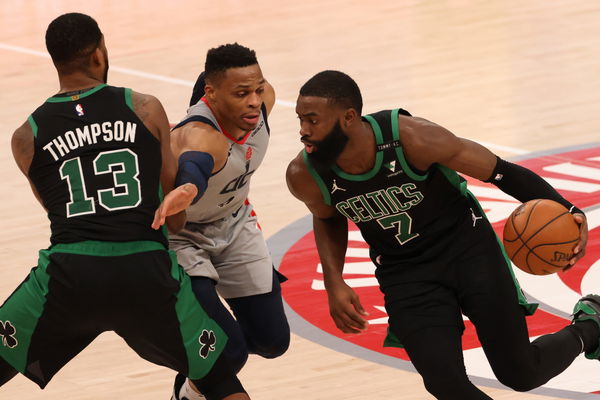 ---
---
A poor beginning does not necessarily lead to a bad ending, at least not with the Washington Wizards. The franchise began their 2020-21 season on a rough note where nothing was working their way. But now, they've pulled in EC what the Warriors have done in WC and occupied that cushioned #8 seed.
ADVERTISEMENT
Article continues below this ad
However, standing ahead of them are the playoff-friendly Boston Celtics who have missed just three postseason berths in the last 20 years. So what are the odds that the Wizards, who are 17-6 in the last 23 games can win this play-in?
Celtics vs Wizards: Injury updates and lineup predictions
ADVERTISEMENT
Article continues below this ad
The Celtics are in trouble with their injuries because they have some permanent and irreversible damage already done. Star Jaylen Brown (wrist) is out for this season as a major shocker. Plus, they had at least four players, Marcus Smart (Calf), Tristan Thompson (Chest), Kemba Walker (neck), and Robert Williams (toe) sitting out against the Knicks. So as of now, it is uncertain who will show up 100% fit against the Wiz.
Probable lineup (much optimistic): Evan Fournier (F), Jayson Tatum (F), Robert Williams (C), Kemba Walker (G) and Romeo Langford (G)
For the Wizards, the injuries are not a problem because they already have Bradley Beal back from his hamstring injury. As of now, they have point guard Raul Neto listed as a day-to-day decision. Also, center Thomas Bryant (torn ACL) and forward Deni Avdija (right fibular hairline fracture) are indefinitely out.
Possible starting five: Rui Hachimura (F), Davis Bertans (F), Alex Len (C), Russell Westbrook (G), and Bradley Beal (G)
Read also – How Russell Westbrook Proved LeBron James and Magic Johnson Wrong
Who wins? 
ADVERTISEMENT
Article continues below this ad
The Wizards (trailing 1-2 to C's in 2021) have improvised like a Transformers Armada machine into a very scary squad. Russell Westbrook is coming off back-to-back triple-double nights, making it a new normal for him. Plus, Bradley Beal made his injury return with an impressive 25-point game, just marginally missing that scoring title for the season to Steph Curry. Rui Hachimura has also been in a great offensive form, as he proved it against the Hornets too. 
The Celtics have lost their direction lately. They're coming off six losses in their last eight games and that's a bad momentum to carry into the play-ins. Apart from Jayson Tatum and Evan Fournier, the team lacks that offensive ability they need against the Wizards. It is only if they can have a better defense during the clutch time, that they stand a chance. That can happen if Kemba Walker goes on work and uses his defensive awareness to secure crucial steals and turnovers.
ADVERTISEMENT
Article continues below this ad
Still, with Russ's ability to create looks and driving to easier scoring areas, coupled with the shooting prowess of David Bertens, the Wizards take advantage. As we predict Wizards taking the #7 seed, do you agree? Help us know in the comments.