Will Stephen Curry Play Tonight? Golden State Warriors vs Dallas Mavericks: Injury Updates, Lineup and Game Prediction
Published 02/06/2021, 8:30 AM EST
---
---
The first of the mini-series matchup between the Dallas Mavericks and the Golden State Warriors did not disappoint at all. What seemed like a sure shot loss for the Golden State Warriors, who were missing most of their frontcourt rotation, turned into a stellar victory.
ADVERTISEMENT
Article continues below this ad
However, that doesn't mean the Mavericks didn't put up a fight. It looked like the teams were trying to one-up each other on who makes the most three-pointers. By the end of the game, the two had 93 three-point attempts in total. And now, they face each other once again.
Who will prevail in this battle?
ADVERTISEMENT
Article continues below this ad
Golden State Warriors injury update and lineup prediction
In their last outing, the Warriors didn't have any of their centers because of injuries. Rookie James Wiseman, Eric Paschall, and Kevon Looney were sitting out, but it was Kelly Oubre Jr.'s career-high 40-point performance that came to their rescue. Otherwise, it wouldn't have been easy for Stephen Curry to single-handedly defeat Luka Doncic's Dallas Mavericks.
Even though Draymond Green doesn't contribute much on the scoreboard, his playmaking skills make him the much-needed veteran of Golden State. They also have their secondary ball-handler, Andrew Wiggins, who is not only defending well, but scoring efficiently too.
However, it won't be easy for the Mavs to pull off a miracle like the last one again. Wiseman, Paschall, and Looney are going to be out for this game as well.
With that, the predicted lineup would be Stephen Curry, Draymond Green, Juan Toscano-Anderson, Andrew Wiggins, and Kelly Oubre Jr.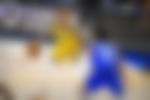 Dallas Mavericks injury update and lineup prediction
Despite having the lead till the first half of the game, the Mavs had a tough time containing the Warriors' offense. In fact, the underdogs who changed everyone's perception of them last season have been struggling majorly so far, standing second last in the Western Conference.
Their star player Luka Doncic also started the season slow and still needs to show more efficiency while shooting. Dallas has a second scoring option in Kristaps Porzingis, but what they lack is a third player they can bank on.
ADVERTISEMENT
Article continues below this ad
While Tim Hardaway Jr. is valuable to the rotation and is averaging 17.1 points per game, he still doesn't fit that role yet. Ever since Josh Richardson came to them from Philly, he has done little justice to his reputation.
With a healthy roster, the predicted lineup would be Kristaps Porzingis, Luka Doncic, Maxi Kleber, Dorian Finney-Smith, and Josh Richardson.
Game prediction
ADVERTISEMENT
Article continues below this ad
Even though the Mavs won't go down without a fight, the Warriors are more likely to win this matchup. Dallas just has no rhythm in their game right now. They will need something more than just Luka to get them this victory.