With a Combined Net Worth of $850 Million, Shaquille O'Neal and Arnold Schwarzenegger Were Once United by Luxury Watch Brand
Published 08/14/2022, 10:00 AM EDT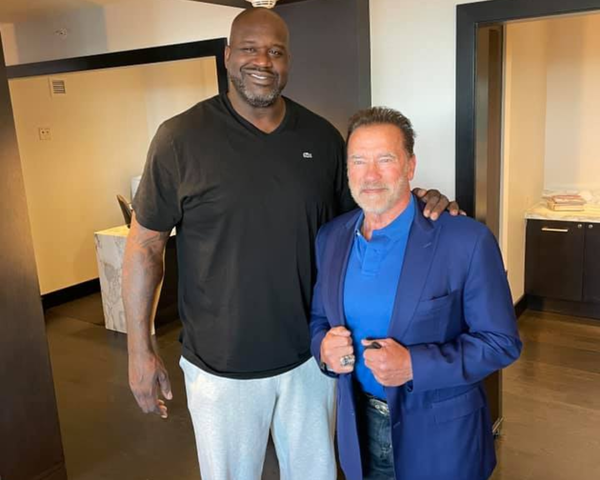 Shaquille O'Neal and Arnold Schwarzenegger are two of the most famous people in the world. With Shaq being a legend in the NBA, Arnold is an American icon. With a deep voice and stern face, "I'll be back" from Arnold Schwarzenegger automatically made him a fan favorite. Even after all these years, his movie franchise Terminator remains a timeless classic. Moreover, he is one of the greatest actors to ever play any role in the industry.
Talking about one of the greatest, Shaquille O'Neal is a legend in NBA history. His dominance on the court was unparalleled. Very soon after making his debut, Shaq made sure that everyone knew who he was.
ADVERTISEMENT
Article continues below this ad
8 years after his debut, Shaq unleashed his true potential when he won 3 NBA titles along with 3 Finals MVPs in a row. Shaq, in his prime, was unbeatable. Just like Arnold, Shaq also became a fan favorite because of his witty, humorous character and, of course, his utmost brilliance on the basketball court.
Shaq and Arnold have had many connections with each other, one being their net worth. Shaq currently stands at around $400 million in net worth, whereas Schwarzenegger is worth around $450 million. Another commonality is a common luxury watch brand.
Audemars Piguet's exclusive watch collection with Shaquille O'Neal and Arnold Schwarzenegger
In 2007, Audemars Piguet launched a special collection of watches. They presented the Royal Oak Offshore Shaquille O'Neal Chronograph. The exclusive watch is 48 mm in diameter and White and red colors of the Miami Heat honor Shaq's team at the time. 
The numbers 2 and 3 are inverted to represent Shaq's jersey number 32 and are specifically written in red. In another version of the watch, the color combination of white and gold combined with a diamond bezel while his number is in rubies. Three of them are 960 of the stainless steel version and 96 of the gold watches. The red stitching on the strap applies a fine finishing touch to the stunning collection.
WATCH THIS STORY: Arnold Schwarzenegger's height compared with his sons.
Released along with the Shaq collection, Audemars Piguet also hit the mark with the extravagant Royal Offshore Arnold Schwarzenegger's All-Star Chronograph. The "All Star" is a tribute to the generous initiative called the All Star Afterschool Program for middle school children. It has a special case back with an engraving of an Arnold inscription. It possesses the signature features of the Royal Oak Offshore collection. 
They come with a strongbox case designed to protect the mechanism from any external stresses and strains. It consists of an octagonal bezel secured with hexagonal screws. A visible water-resistance seal between the bezel and the case makes the watch look amazingly elite. Exclusive guilloché "Méga Tapis serie" dial motif with a perfectly integrated case and bracelet add to the brilliance.
Arnie was left baffled when he first met Shaq
ADVERTISEMENT
Article continues below this ad
The two superstars did not meet for Audemars Piguet promotions or something around that, but they do have a lot of fun history together. One of the most amazing meets was their first one. Arnold was surprised to see Shaq eat around 10 meals.
This was way back in 1993, and it was before a game. It was lunchtime and Arnold saw Shaq order meal after meal.
ADVERTISEMENT
Article continues below this ad
Their first conversation made Arnold realize Shaq was not all power, but he was also smart. The two have made multiple public appearances since then. It is always an awesome sight to see the two legends together.
Edited By: Pritam Priyedarshi