'Work with a Physical Therapist': Magic Johnson Cautions Lakers' Anthony Davis Against Injuries
Published 06/22/2021, 5:30 AM EDT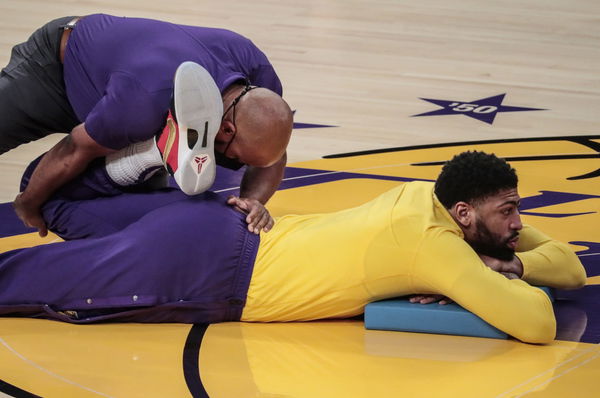 ---
---
The Lakers saw a setting sun against the Phoenix side largely because of their extended health issues. They relied heavily on the aging legs of LeBron James as Anthony Davis kept showing injury concerns. It was painful to see the LA side getting eliminated not because they were worse but because they weren't healthy.
ADVERTISEMENT
Article continues below this ad
After Game 1, Anthony Davis had taken full responsibility for the Lakers' 90-99 loss because he had managed just 13 points. But the Lakers could still afford an underperforming AD than not having him at all. 
So what must The Brow do in order to not repeat the same dire result?
ADVERTISEMENT
Article continues below this ad
Magic Johnson has a piece of advice from his quarter century of NBA wisdom
In a recent interview, 5x NBA Champion with the Lakers, Magic Johnson gave a brief blueprint for Anthony Davis to follow. The 61-YO detailed, "First he got to change what he has been doing over the summer. He's got to get somebody to stretch him. He also probably got to work with a physical therapist to make sure all the injuries that he had this past season, he's over those injuries, and it can help him during the next season." 
This season was specifically hard on AD after he suffered an Achilles/calf injury on February 14 while playing against the Nuggets. He then missed the play (including ASG 2021) for over two months and played just 36 regular games. Later in the postseason, even as he played immensely amazing in games 2 & 3, the star complained about knee issues ahead of Game 4. He followed that by hurting both his groin and the Lakers' chances to win the series.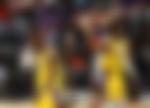 Should the Lakers take the load management path?
Anthony Davis has had a history of injuries as worse as that of Joel Embiid. In January 2020, he endured a sacral contusion and had missed five consecutive games. Before that, as a Pelican, he had sprained his finger during the same time of the year in 2019. Plus, his groin had troubled him four years back with a left abductor strain that was quite serious too. Apart from this, he had shoulder, back, hip, and ankle injuries during those initial years too. 
Magic Johnson noted all of that when he expressed, "for the Lakers, yes, not load management as much, but make sure you watch how many minutes you're playing, watch back-to-back games because he is injury prone. Before he got to Lakers, he used to get injuries with the Pelicans. The main thing for the Lakers is, we just can't depend on those two guys anymore, we need a third scorer."
ADVERTISEMENT
Article continues below this ad
Load management would mean lowering the threshold of pressure on an athlete so his body gets enough recovery time. Now, Magic's advice in the direction of Frank Vogel and Rob Pelinka seems plausible. 
So what do you say, will the Lakers get Russell Westbrook or his likes on board to safeguard their duo? Help us know in the comments.
ADVERTISEMENT
Article continues below this ad
Watch this story – Kobe Bryant, LeBron James, and Other Lakers Who Changed Jersey Number Multiple Times