'Would do a Lot of Little Dirty S**t': Former Teammate Details the Physical Side of Kobe Bryant
Published 05/13/2021, 10:30 AM EDT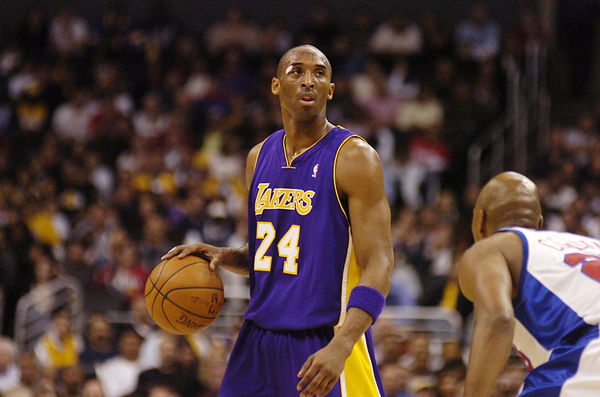 ---
---
Late Lakers' legend Kobe Bryant was one of the best players NBA had ever seen. Be it his impeccable scoring prowess or his ability to lockdown the best in the game, Kobe was a complete package and one of the biggest superstars of his generation.
In a career which lasted a whooping 20 seasons, Mamba won 2 Finals MVP trophies, had 2 scoring championships, 18 All-Star appearance, an MVP trophy for the 2007-08 season and 5 NBA championships. With a resume topped by only a few greats, Kobe is often the part of the never-ending GOAT conversations.
Former teammate speaks about the physicality of Kobe Bryant
Being drafted from a stacked 1996 draft class, Bryant had one of the most accomplished and longest careers in NBA history. Playing NBA level basketball for 20 years is an incredible achievement and tells a lot about the physical specimen Kobe was in his playing days.
Matt Barnes certainly knows how difficult it can be to defend against a specimen like Kobe. He might have played two seasons with Mamba and the Lakers, but he had his fair share of battles against Bryant.
In an appearance at the 'Called Game' podcast, he explained how physically gifted Kobe was and how he used it to his advantage against defenders. "Kobe obviously- he was the most physically gifted player we've ever seen.
"But he's also really smart so he would just not only try to physically dominate you but mentally dominate you as well so he would do a lot of little dirty s**t that he would never get caught for."
Kobe certainly gave it all on the court and had a troubled history of injuries as well. Be it his numerous knee injuries or his battered ankles, Kobe recovered from it all. Thanks to his incredible physicality, he ended up becoming one of the most important Laker of all-time.
Matt Barnes speaks about the infamous incident of Kobe not flinching
Matt Barnes might be one of the top defenders of his time but arguably his most memorable highlight came against Kobe and the Lakers. Playing for the Magic, Barnes was tasked with defending Kobe.
Barnes was understandably getting frustrated with the Kobe, and in a heated moment fake passed the ball to Bryant's face. But Kobe didn't flinch a single time. In a recent appearance at a podcast, Barnes explained why he did the same.
"I kept getting foul calls and then you know in trouble for retaliating so it just came to a point- like man! I'm about to fight this like forget basketball like let's just fight, so really I didn't even plan on faking the ball in his face like literally my arms it just did it yeah and it you know it like I said it brushed his eyebrows he didn't flinch, um you know."
This was arguably one of the coldest moments in NBA history ever. Given how Bryant was ready to take up any challenge, this incident goes on to show that Mamba was focused on a single goal and that is winning.