WOW! How Fans Are Reacting to the Insane James Harden to Brooklyn Nets & Victor Oladipo to Houston Rockets Trade
Published 01/13/2021, 5:17 PM EST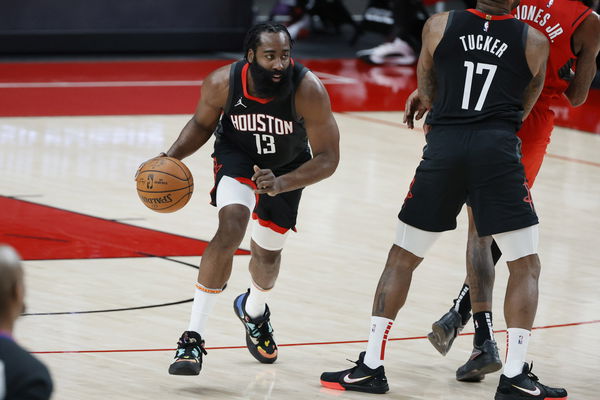 ---
---
This off-season one of the biggest headlines was when Houston Rockets' star James Harden demanded a trade. A lot was reported here and there, but nothing concrete came out of it, until today.
ADVERTISEMENT
Article continues below this ad
After making a public mockery of the Houston Rockets, the team was also keen on trading him away. The team understood keeping him on was only adding misery to the side. He hardly played well and his words demotivated his teammates, including Demarcus Cousins.
Because of these comments, the rumor mill was in full swing and it seemed like a matter of time before Harden was being traded.
ADVERTISEMENT
Article continues below this ad
After a long wait, the Beard has finally been granted his wish. ESPN's Adrian Wojnarowski broke the NBA when he reported that Harden had been traded to the Brooklyn Nets.
Reporting w/ @RamonaShelburne: Brooklyn's acquiring James Harden in a three-way deal with Cleveland. Caris LeVert, Dante Exum, Rodions Kurucs, four 1st round picks – including Cavs' 2022 first via Bucks — and 4 Nets pick swaps to Rockets. Jarrett Allen, Taurean Prince to Cavs. https://t.co/qM0ZDH4dH3

— Adrian Wojnarowski (@wojespn) January 13, 2021
Harden now joins forces with Kevin Durant and Kyrie Irving to form a Big Three. The Nets were already one of the best teams in the East. With this trade, they just became the favorites to win this year's championship.
Twitter Goes berserk over Harden's trade to the Nets
The trade broke the NBA twitter as fans and players alike went crazy over this humongous trade.
HARDEN IS FINALLY GOING TO WIN SOME CHAMPIONSHIPS 😭😭😭😭😭

— BGN (@BullsGotNext) January 13, 2021
Kyrie, Harden and KD on the Nets? Wow, Lakers in 5 though

— 𝓚𝓪𝓷𝓮 🏆💜💛 (@LALPrime) January 13, 2021
FULL TRADE DETAILS *updated*

Brooklyn – James Harden

Houston – Victor Oladipo, Dante Exum, Rodions Kurcus, 4 1st Round Picks, 4 Pick Swaps

Cleveland – Jarret Allen, Taurean Prince

Indiana – Caris LeVert, 2nd-Round Pick

🤯🤯🤯

(via @ShamsCharania)

— Hoop Central (@TheHoopCentral) January 13, 2021
Can James Harden finally win an NBA championship?
James Harden will be the happiest man in the world right now. After such a long time, Harden finally won't have to carry all the offensive burden in a team.
This Brooklyn Nets squad might be the one and only chance for Harden to win the coveted NBA title. He hasn't been surrounded by so much talent ever since he left the OKC Thunder. The Beard is still in his prime and will be determined to do anything to finally add the championship to his decorated resume.
ADVERTISEMENT
Article continues below this ad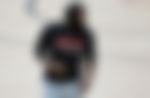 The biggest concern however will be chemistry. Kevin Durant has already proved that he can thrive without the ball too, but this is not the same for James Harden or Kyrie Irving.
If they really want to be successful, one of them has to take a step back and let them be the primary ball handler. But will Harden or Irving be willing to do that?
ADVERTISEMENT
Article continues below this ad
Now the most crucial job will be at Steve Nash to create a system which can incorporate James Harden alongside Durant and Irving. If the Nets can build team chemistry, they will be absolutely terrifying for teams to face. The Nets have instantly became the favorites for the championship. Can they trump the champions Los Angeles Lakers?