WWE Legend Steve Cold Stone Austin Weighs in on LeBron James – Michael Jordan GOAT Debate
Published 12/21/2020, 8:51 AM EST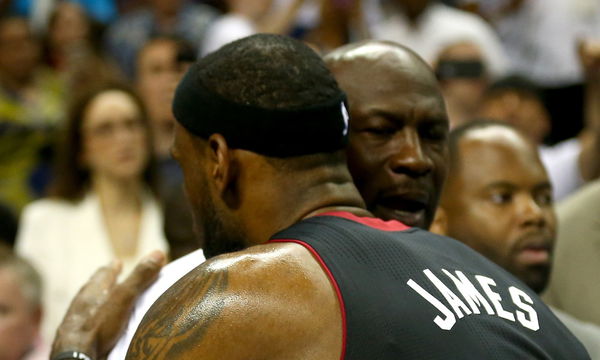 ---
---
LeBron James might be one of the best players the NBA has ever seen. Naturally, he is compared with players like Kobe Bryant and 'His Airness' Michael Jordan to determine who is the greatest of all-time.
ADVERTISEMENT
Article continues below this ad
The GOAT debate is the staple for NBA fans all around the world. Some pundits argue that MJ was more passionate about the game, while others argue that LeBron is a more complete player.
Many celebrities have their view in this debate. The latest to weigh in on this debate is legendary wrestler Steve Austin.
ADVERTISEMENT
Article continues below this ad
Steve Austin chooses MJ over LeBron James
In a recent interview, 'Stone Cold' weighed on in the GOAT debate. He said, "Hell, I'd take one of each in their prime.
"Michael Jordan came up and well it's still my era but I grew up on Michael Jordan and I'll never forget we were at Cleveland Gund Arena when LeBron had just gotten drafted and he was a rookie and he was sitting on the front row in the crowd while we there at the Gund Arena."
He added, "Of course he ascended right to the top just like everybody thought he would. I think he's one of those once-in-a-lifetime performers. Same with Michael Jordan. Because I was such a kid back in the day when Jordan was around, I looked up to him.
"I was a younger guy back then. I appreciate what LeBron's doing and bringing to the game, he's unbelievable. But for me, just because Jordan has that mystique, I just got to go Michael Jordan just off the mystique. Both guys are phenomenal."
Can LeBron surpass his idol, Michael Jordan?
Coming into the league, LeBron James was known as the 'Chosen One.' The one who would be the next Michael Jordan. In the 17 years since his debut, he has just done that. In his 17 years till now, he has won four championships, four MVPs, four finals MVPs and made 16-All NBA teams in his career so far.
With the 2019-20 NBA championship, he now has found a team that is primed to succeed, and even the front-office has brought in younger players to complement him.
ADVERTISEMENT
Article continues below this ad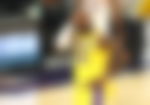 Despite being one of the few 36-year-old players in the league, he has shown no signs of slowing down. He might be 36, but his body more like a 26-year-old right now. He recently signed a contract extension with the Lakers which will see him at least play till he is 39 years old.
Given that multiple stars are entering their prime, the Lakers are set to be successful for the coming years. The destructive the duo of James and Anthony Davis along with the support cast can surely wreak havoc to other team's defenses.
ADVERTISEMENT
Article continues below this ad
The King hasn't slowed down much. If his current form continues, he is surely going to break the all time scoring record. Over the years, he has broken multiple records. Considering how he is performing as a 36-year-old, he is primed to break more.