'Yellin at the Surgeon': Phoenix Suns Owner Explains How Devin Booker Was Desperate to Return to the Court Following His Nose Injury
Published 07/03/2021, 12:26 AM EDT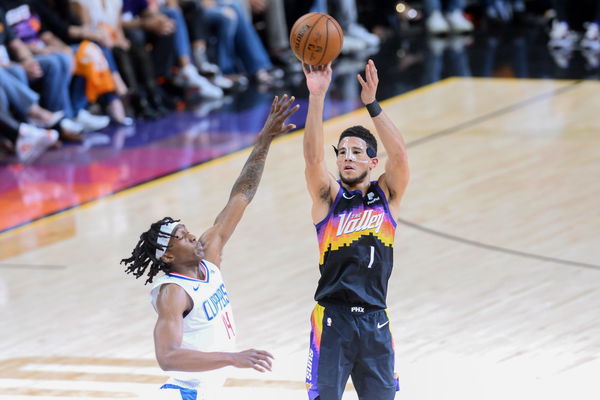 ---
---
Recently, the Phoenix Suns became the only team to reach the NBA Finals after coming back from a 10-year playoff drought. They defeated the Clippers in six games and lifted the conference title as the #2 seed. In 53 seasons, the Suns have now advanced to the finals for the third overall time and are yet to win the championship.
ADVERTISEMENT
Article continues below this ad
It has not been an easy postseason journey for the Suns who saw Chris Paul taking a shoulder injury against the Lakers. If that was not enough, he missed the first two WCF games against the Clippers because of contracting coronavirus. But thankfully for them, Devin Booker had got his back no matter how severe the situation.
ADVERTISEMENT
Article continues below this ad
Phoenix Suns' Devin Booker and the gripping tale of his injury treatment
After comfortably taking the Game 1 victory, the Suns faced a tough competition in Game 2. It all turned crazier when Clippers' Patrick Beverley mistakenly head-butted Devin Booker while guarding him during Q3. The Suns were at a 69-62 lead when Devin's bloody nose saw E'Twaun Moore replacing him with 3:22 left on the clock.
In a recent interview, Suns' managing partner Robert Sarver revealed what happened during his treatment, "So he went back to the training room and I went back to check on him coz I was sitting near his agent and obviously his family was worried. So… I went into the room, he just got blood gushing out of his nose and we've got our team… our whole crew trying to get stitches on him and [indiscernible] back there and about two minutes to go in the quarter."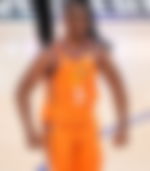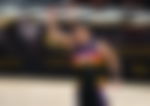 Chris Paul's call that fired up the young Book
Notably, Chris Paul, who had a call with Devin and DeAndre Jordan minutes after their Game 1 victory, called him again. 
As the executive added, I'm seeing Chris's security guy with a phone in front of Devin's face. Chris is on facetime telling Devin what to do. Explaining to him which elbow he wants him to get to and how to get this person here and that person here. Don't lose your temper, be calm, don't try to strike back, you're gonna get this.
"Then, Devin is yelling at surgeon to finish quickly so he can get out, try to get the 2-for-1 shot. He wants to get back on the court with 35 seconds to go. That gives you the insight into the competitiveness and laser focus of these two men in trying to get us the NBA Championship."
ADVERTISEMENT
Article continues below this ad
CP3 has been the greatest endorser of Devin Booker's capabilities. He first called him the oldest 24-YO he had ever seen and later accepted that he joined the Suns because of Booker. Now, the duo is just four wins away from lifting their first-ever NBA title. Do you see that happening? Help us know in the comments.
ADVERTISEMENT
Article continues below this ad
Watch this story – Devin Booker and Paul George's Amazing Game 5 Performance Against the Clippers