'You Don't Get to Say': Former NBA Champion Schools JJ Redick for Calling Out Pelicans' Front Office
Published 03/31/2021, 11:08 PM EDT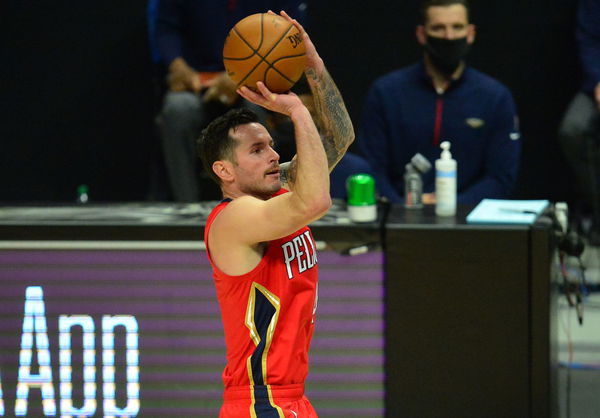 ---
---
JJ Redick has been more into the limelight for his podcast than his on-field performances in the recent past. The former Pelicans star has now given birth to a controversy by calling out the Pelicans office for mishandling his trade to the Mavericks.
ADVERTISEMENT
Article continues below this ad
The veteran guard has played in 14 seasons and represented five teams, making the Mavs his sixth destination. Turns out, he was the least pleased with the recent transfer to Dallas, which was perhaps against his demand. Being the host of a successful podcast, he voiced his disappointment and later attracted some constructive feedback.
Former NBA champion schooled JJ Redick 
ADVERTISEMENT
Article continues below this ad
Earlier, the 36-YO star had infamously quoted, "I don't think you're going to get honesty from that front office."
This is not the note on which one would want to leave a franchise, but at least that was how JJ felt and expressed. He had reached out to GM Trajan Langdon and VP of Basketball Operations David Griffin multiple times to get him a desirable trade. The star demanded a franchise close to Brooklyn and cited family reasons for the preference. But how worthy were his demands?
In a recent interview, former NBA Champion Richard Jefferson very swiftly turned down JJ Redick's case. He detailed, "I like JJ. So JJ… you wanted more time in Brooklyn, I know your family is in Brooklyn residing on the East coast. But, really? You thought they were going to send you to the Nets like everybody else? On top of it, you know it, no one cares. I respect you, no one cares about your feelings."
Richard's comments are very plausible and go in line with the comments that the team's coach Stan Van Gundy had made. The 61-YO coach had earlier outlined how the NBA is a business, and the front office will always put the franchise first. 
Read Also – Zion Williamson Takes JJ Redick By Absolute Surprise with His Emotional Poetry to Define Dichotomy of Fame
Were JJ's demands from the Pelicans worthy of receiving an ear?
JJ, upon not getting traded by February, thought that he would reach a buyout situation. However, things didn't go as per his plans. But a former NBA legend and multi-time Champion, Robert Horry, felt that JJ had no reason to put forth demands.
ADVERTISEMENT
Article continues below this ad
The 7-time NBA Champion exclaimed, "What have you done for them? That's what it boils down to. Have you won a championship for this organization? No. Have you been an MVP with this organization? No. Have you been an All-Star? No. You don't get to say where you go. You go where they say it was best for the organization. This is the NBA, this is business, get it."
In his one complete season, with the Pelicans, JJ averaged 15.3 points at 45.3% shooting. He had a notable impact, but nothing that could get him a huge status.
He had four good reasons to want to opt-out from New Orleans. One, the outgoing of his favorite Jrue Holiday, two, his demotion from the starting five to the bench, third being his family reasons, and fourth, the fact the new coach's defensive strategy did not suit him. 
ADVERTISEMENT
Article continues below this ad
Was the Pelicans front office at fault here? Help us know in the comments.