'You Don't Know Basketball': Former All-Star Dismisses Draymond Green's Comments Of Being The Best Defender Ever
Published 03/24/2021, 9:58 AM EDT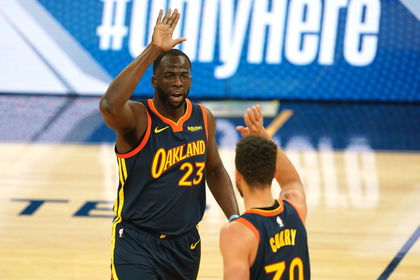 ---
---
Golden State Warriors' forward Draymond Green is arguably one of the best defenders in the league. He might be only 6'6″ but can defend all the positions on the court effectively.
ADVERTISEMENT
Article continues below this ad
Given his all-round defensive play with his impeccable play making skills, the 3-time All-Star was an integral piece in the Dubs' five-year dominance in the NBA.
Currently, he is one of the most important veterans in the Dubs' locker room, alongside Steph Curry. After a slow start to the season, Green is currently averaging 6.1 points, 8.4 assists, and 6.6 rebounds per game.
ADVERTISEMENT
Article continues below this ad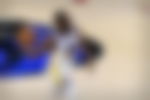 Despite his impressive play, Dray has always found his way to some controversy or the other. The 31-year-old recently caused a stir among NBA fans all-around the world. In an appearance at the Dubs Talk podcast, Green claimed that he was the best defender to ever play the game of basketball.
Given the plethora of great defenders the league has seen over the years, Draymond's claim is certainly bold, to say the least.
Former All-Star Chris Webber dismisses Draymond Green's comments
Ever since Green made these comments, the NBA community has been absolutely buzzing. Like every burning topic, his comments were also discussed on Inside the NBA.
Kings' legend and All-Star, Chris Webber was certainly unimpressed by the forward's comments. Webber said, "There is no way to say ever that's just crazy and whoever agrees with him or ever you don't know basketball and Draymond should say what he says."
ADVERTISEMENT
Article continues below this ad
Webber did appreciate the 31-year-old, but mentioned some of the best defenders to ever play the game. "Two things can be right. If I'm Draymond, I totally agree. Draymond from the glove, he got heart, he's been doing it since college, he had a triple double without scoring. He's the man defensively, he'll shut everybody down, but I just like reminding people some names.
"Bill Russell like I just feel like I had a big glove with some baby powder and just go smack everybody in the world and you ain't say Bill Russell. Kobe, KG (Kevin Garnett). KG, seven foot, checking one, twos, and threes. Draymond is the man. Let's all have a great you know conversation. GP (Gary Payton), Dennis Rodman."
ADVERTISEMENT
Article continues below this ad
Webber added, "I definitely think you know he's great but I just think you can't say ever all."
Dray certainly makes a case of being the most versatile defender ever. Be it his high volume rebounding, steals, blocks, Green can do it all with the basketball. He might be an All-time great defender, but being the best defender ever in NBA maybe a stretch. Is Draymond Green the greatest defender ever?