'You're Looking at all Alphas': Gilbert Arenas Details What was it Like to Face 2008 Boston Celtics
Published 03/23/2021, 9:00 AM EDT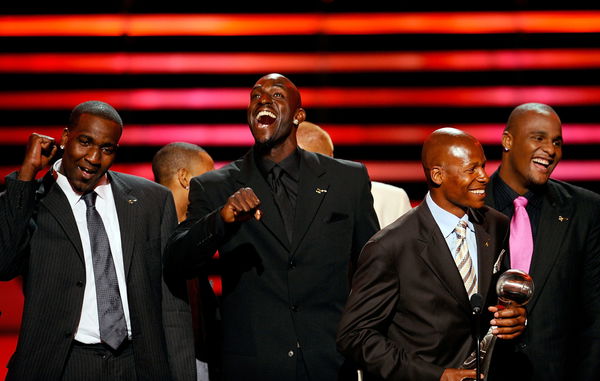 ---
---
The 2007-08 Boston Celtics are considered the pioneers of the era of super teams. Their 'Big Three' that included Paul Pierce, Kevin Garnett, and Ray Allen won a championship after 1986 by defeating their rivals, the Los Angeles Lakers in the NBA Finals.
ADVERTISEMENT
Article continues below this ad
This was one of the best seasons in franchise history. Before this, they were even struggling to bring themselves to the playoffs. They hadn't made it to the postseason for two consecutive years before this. But they entered the 2008 playoffs with the best record of 66-16. To date, Gilbert Arenas can't forget what it was like, facing this deadly trio.
The wrath of the 2008 Boston Celtics
ADVERTISEMENT
Article continues below this ad
On 'No Chill with Gilbert Arenas,' Arenas detailed his encounters with the 2008 Boston Celtics. "It wasn't about skill, it was about matching mentalities now," explained Gilbert. "You're looking at all alpha's, so they're just going to try to mentally bully the court."
Arenas even listed down their process, which he noticed. He stated, "So, we know KG, he's going to start with the mouth. That's going to get Paul going. Now you got two alphas on the court, trying to bully, talking shit… Then you got the bench squad that's coming in, trying to bully… they're playing straight prison brutal basketball when they come in the game."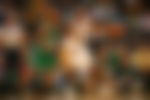 Arenas further added, "So, you got two types of groups that you have to mentally prepare for… So I said we got to match it mentally. Talk shit to KG, I don't care if you miss. You just keep in his head because he's going to stay in yours. That's just a part of the game. You got to be able to look at your opponent and see what it's about. It's not always about the skill part because if they can mentally get into your head, that skill goes out the window."
The Big Three of the Celtics
When Kevin Garnett and Ray Allen joined the Celtics through trade, it wasn't much like how the Miami Heat's Big Three of Chris Bosh, LeBron James, and Dwyane Wade was formed. But much like with the Heat, the Celtics also formed an elite team.
ADVERTISEMENT
Article continues below this ad
KG was in his prime at the time and was averaging a double-double in his ninth season, whereas Allen was already labeled as one of the best shooters in the NBA and was having the best season of his career prior to joining this team. Then came Pierce's elite scoring that made this package perfect. In fact, their defense was one of the most deadly ever seen in the league.
It is hard to imagine any team being better than the Celtics that season. It was as if the championship trophy already had their names embedded on it as soon as they came together.
ADVERTISEMENT
Article continues below this ad
Read also- The Boston Celtics Were About to Lure Reggie Miller Out of Retirement With A Tempting Offer