'You're Talking to Him': Lakers' Anthony Davis Funnily Snatches Away LeBron James' Piece of Praise
Published 02/13/2021, 10:02 PM EST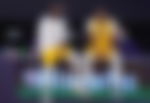 ---
---
The Los Angeles Lakers are on a seven-game win streak, and they look unstoppable. Their biggest tests in the Brooklyn Nets and the Utah Jazz will unfold in the next ten days, but LeBron James' men appear more prepared than ever. 
ADVERTISEMENT
Article continues below this ad
Their most recent win against the Memphis Grizzlies showed how the men in Golden and Purple can suddenly turn the game around. It took them the best out of their star duo to snatch the victory from the underdogs. Who deserves the credit for the victory? Is it Bron or AD?
Lakers' Anthony Davis in no mood to give LeBron James any more limelight
ADVERTISEMENT
Article continues below this ad
In a recent media interaction, an interviewer asked Anthony Davis if he has ever seen any other player turn it on like Bron. AD jokingly and rather savagely responded, "Yeah, I know a player who can do that. You're talking to him. (laughs)."
Now, the way Anthony can take a dig at LeBron shows how deep their relationship is with one another. The other day, it was LeBron James, unhappy about AD hiding the news of his Super Bowl appearance.
As long as they're producing results on the court, fans would love to see them produce some humor off it. 
Many critics believe AD does not get enough recognition with LeBron around. But the thing is, both the stars need each other if they are to take the Lakers forward, and they might care less about the personal mentions.
One criticism on Bron and how he turned it to his positive against Grizzlies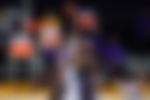 The other angle to LeBron's turning it on can be the fact that many accuse him of the excessive turnovers. But the way he is moving forward with AD giving him the cushion will soon kill that criticism too.
ADVERTISEMENT
Article continues below this ad
In the game against the Grizzlies, both AD and Bron started slow, missing Alley Oop layups and three-point jumpers. They were 2-22 down when the duo clicked the switch ON.
In that game too, Bron had five turnovers, but he made up for them by scoring 28 points, 9 rebs, 8 assists, and 2 steals. He put this performance after playing extra minutes for three back-to-back OT games prior to it.
What else can a partner or the fans demand of a 36-YO vet? The Lakers will next face the challenge from Nikola Jokic's Denver Nuggets. Stay tuned!
ADVERTISEMENT
Article continues below this ad
Read Also – LeBron James Extremely Satisfied With LA Lakers Championship DNA Being Tested