"You've Been Broke for 18 Years…": Magic Johnson and Larry Bird's Iconic College Battle Would've Ceased To Exist if Not for Lakers Legend's Father
Published 01/14/2023, 11:50 AM EST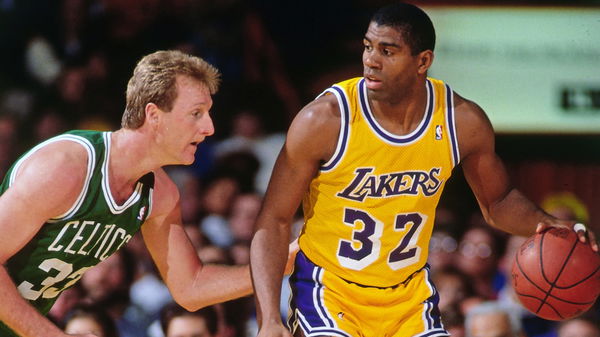 The bittersweet relationship between NBA legends Magic Johnson and Larry Bird is one of the most talked about rivalries in the league's history. Los Angeles Lakers' Johnson and Boston Celtics' Bird have often faced each other during their time in the league. Their games have been closely followed by the media and fans due to their on-court rivalry. Interestingly, their rivalry began way before the duo were drafted into the league. In fact, NBA fans almost didn't get to witness their iconic college matchup if it wasn't for Johnson's father.
The 1979 game between the Michigan State Spartans and the Indiana State Sycamores is one of the highest-rated college basketball game to be watched on TV. What made it more significant was the fact that it was the first time ever that Magic Johnson and Larry Bird faced each other on the court. Thus began the tale of their rivalry.
ADVERTISEMENT
Article continues below this ad
The epic Magic Johnson-Larry Bird matchup almost didn't happen
In an exclusive interview with ALL THE SMOKE, 5x NBA champion Magic Johnson talked about his decision to wait one more year before entering the NBA Draft. During an hour-long chat with former NBA stars Matt Barnes and Stephen Jackson, Johnson recalled how he was glad that he listened to his dad and turned down Kansas City Kings' (Sacramento Kings) six-year deal that was worth $200,000 a year.
"I jumped up and said, 'Oh, I think that's good'. My father grabbed me and he pulled me, dragged me outside the door, he said, 'Hold on, we'll be right back'. 'He said, 'You've been broke for 18 years, you can be broke one more year'." Johnson narrated it to Barnes and Jackson.
ADVERTISEMENT
Article continues below this ad
This enabled him to face 3x NBA champion Larry Bird in the national championship that took place on March 26, 1979.
Furthermore, he added, "I say, 'Yes sir!. So, you're going back to school'. So I went back to school and I'm glad I did because I finished what I came to college for, which was to win the national championship and play against Larry Bird in that unbelievable final."
ADVERTISEMENT
Article continues below this ad
WATCH THIS STORY: Luka Doncic Surpasses Lakers Legend Magic Johnson; Second Only to Oscar Robertson in Iconic NBA Record
Johnson led the Michigan State Spartans to a 75-64 win against Bird's Indiana State Sycamores. Johnson scored 24 points, whereas Bird had his all-time NCAA career-low 19 points.
Edited By: Jayant Chhabra