Zion Williamson Joins LeBron James, Michael Jordan, Kevin Durant and Others By Getting First Signature Shoe
Published 04/20/2021, 9:53 AM EDT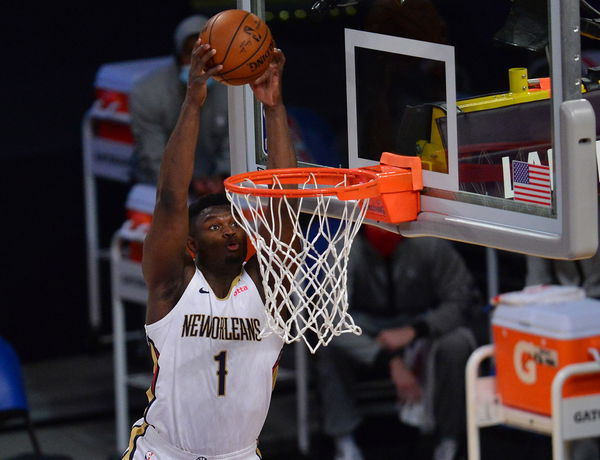 ---
---
Zion Williamson has joined an elite list of NBA superstars to have their own signature shoe line. After the impact of Michael Jordan on sneakers and basketball, many players dream of one day having their own shoe line. That dream has come true for Zion under the eyes of the Jordan Brand, the leading basketball sneaker brand in the world.
ADVERTISEMENT
Article continues below this ad
This was an expected move, considering the commercial upside Williamson has. While there are a lot of young players that have shoe contracts, not many have their own shoes. This even includes Luka Doncic, a player that entered the league before Zion and is already an MVP-contender. This is how the 'Zion 1' will look.
ADVERTISEMENT
Article continues below this ad
Williamson revealed why the colorway of the shoe is the way it is, saying it is a tribute to his younger brother. Having this design freedom over his shoe as a second-year player is big and shows the trust Jordan Brand has in him.
READ MORE: Zion Williamson Second Only to Michael Jordan in This Illustrious NBA Achievement
Zion Williamson: The next big commercial NBA star?
Zion Williamson is establishing his presence in the American market as the next superstar. While we have known that is the crown he was going to inherit after LeBron James leaves, his injury history put doubts on that plan. However, he is healthy this season and is proving why he is one of the most dominant forces in the game already at the age of 20.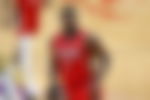 Currently, only 15 players outside of Zion have their own signature shoes. The list includes superstars like LeBron James, Kevin Durant, Giannis Antetokounmpo, Paul George, and Kyrie Irving with Nike.
ADVERTISEMENT
Article continues below this ad
James Harden, Donovan Mitchell, and Derrick Rose. Joel Embiid has a shoe with Under Armour, while Kawhi Leonard has one with New Balance. Steph Curry is running his own brand, and Klay Thompson is signed with Anta. Chris Paul and Russell Westbrook are with Zion as the players with signature Jordan shoes.
ADVERTISEMENT
Article continues below this ad
The first-time all-star will be hoping to have a long NBA career that can see him churn out more shoes. Hopefully, his health stays uncompromised and he can continue building on the success he has already had. On the court, as well as off the court.