Zion Williamson Joins Michael Jordan, Giannis Antetokounmpo and Others on Exclusive List
Published 03/28/2021, 6:30 AM EDT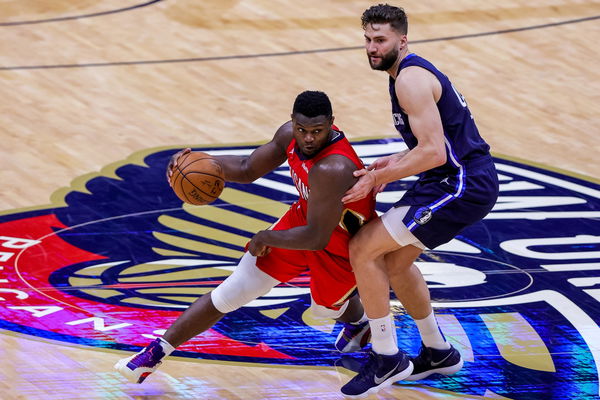 ---
---
The second half of the season is even more electric than the first with more players putting up stellar displays of prowess, and Zion Williamson is one of them. The New Orleans Pelicans are currently standing third in the Eastern Conference with a 20-25 record. However, they still have Zion as their safety net who has now joined Giannis, Michael Jordan, and other NBA greats in a unique record.
ADVERTISEMENT
Article continues below this ad
Zion Williamson adds name next to Michael Jordan
The Milwaukee Bucks' superstar is putting up some excellent numbers this season. He is averaging 28.3 points, 11.5 rebounds, and 6.4 assists this season. If it weren't for him deciding to extend his stay with the Bucks, they would be lost without him.
ADVERTISEMENT
Article continues below this ad
Other than him, there is another rising star in the New Orleans Pelicans that deserves our attention. Zion Williamson is averaging 26 points and 7.1 rebounds this season, and although the Pelicans aren't at an ideal spot in the West, Williamson remains a force to be reckoned with.
And now, the two of these have added their name to a list of NBA greats who had some stellar stats. As per Andrew Lopez, "Here are the players who have had at least 75p-10r-10a while shooting over 70.0 FG% in a 2-game span in the last 35 years: Zion Williamson, Giannis Antetokounmpo (2x), Shaquille O'Neal, Scottie Pippen, and Michael Jordan."
In fact, he later updated this information and added Wilt Chamberlain, Kareem Abdul-Jabbar, and Adrian Dantley to the list. There seems to be no accolade that Zion wants to keep his hands off.
Update to this from @EliasSports: 75-10-10 on 70.0 FG% since 1954-55:

Wilt Chamberlain (8x)
Kareem Abdul-Jabbar (5x)
Adrian Dantley (3x)
Michael Jordan
Shaquille O'Neal
Scottie Pippen
Giannis Antetokounmpo (2x)
Zion Williamson https://t.co/sy4AXTjoif

— Andrew Lopez (@_Andrew_Lopez) March 28, 2021
Pelicans vs Mavericks
The Mavericks had two of their superstars, Luka Doncic and Kristaps Porzingis sidelined. So, their 112-103 fall to the New Orleans Pelicans seemed inevitable with Zion Williamson on the opposite end. Zion was the lead scorer for the team.
ADVERTISEMENT
Article continues below this ad
Not only did he put up 38 points, 5 rebounds, and 6 assists, he also bagged 12 of his 18 free-throws. The Pelicans had started off the game with the most energy. However, the Mavericks had caught up to them in the second quarter.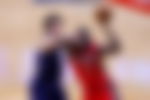 It was an intense battle that ended with the Pelicans as the winners because the Mavericks could not contain Zion in the last quarter. Although it is hard to imagine New Orleans making it to the postseason this time, there is no losing hope as long as Zion is on the team.
ADVERTISEMENT
Article continues below this ad
Read also- Avengers Star Anthony Mackie Compares Pelicans' Zion Williamson with the 'Hulk'