Zion Williamson Narrates the Story Behind the Viral Video of an Undersized Kid Guarding Him
Published 03/03/2021, 7:30 AM EST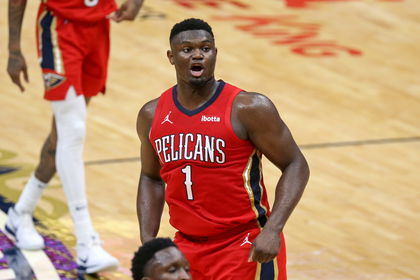 ---
---
Surprisingly, the most popular video of Zion Williamson from his time in high school is not about his plays on the court but actually about an undersized guard trying to defend him.
ADVERTISEMENT
Article continues below this ad
In 2017, Zion Williamson's junior season was at the Spartanburg Day Academy in South Carolina, and in February that year, their team was matchup up with someone who had a short defender named Bryson Bishop. He won hearts for showing so much zeal and confidence in defending the now New Orleans Pelicans superstar.
Zion Williamson explains the viral video
ADVERTISEMENT
Article continues below this ad
The viral video that nobody can stop talking about was brought up on 'The Old Man and The Three' Podcast. Zion gave details of what was going on in that video exactly. "His name is Bryson Bishop, and he's either a senior in high school. Or he's a freshman," said Zion.
"Man, I will never forget that. That was our rival. It's like either late third or fourth quarter and we're up by 30 at this point. So, we come out of a timeout and he starts walking over to me. I'm like, 'No way! You're not about to do this.' And when he comes over and starts clapping…" Zion said laughing.
"I kid you not if you saw me, I look to the right. My principal and he was like our track and field coach. I looked at those two and I was like 'Are you serious?'." Although later on Bryson ended up fouling him, but nevertheless, he defended Zion very well.
Respect to Bryson Bishop
However, Zion also stated, "I've got a lot of respect for him for doing that. His teammates were so out of it that he was just trying to give them energy. And for him to be the one to come over there and do that, I've got nothing but respect for him for doing that. "
ADVERTISEMENT
Article continues below this ad
"But yeah, when it was happening in the moment I was like, 'No way, don't disrespect me like that.' confessed Zion. Kudos to Bryson Bishop to have the audacity to guard one of the fiercest players in the NBA right now.
This is the player who is expected to make take part in the Slam Dunk Contest this year as well. Getting posterized by Williamson is one thing every player fears, but this kid showed none whatsoever.
ADVERTISEMENT
Article continues below this ad
Read also- LeBron James vs. Zion Williamson: Stats Prove How the Pelicans Star Surpassed the King in First 50 Games