"Zion Williamson Never Playing": Fans Not Impressed as Pelicans Rumored to Trade for Major Blazers Star
Published 01/31/2022, 8:38 AM EST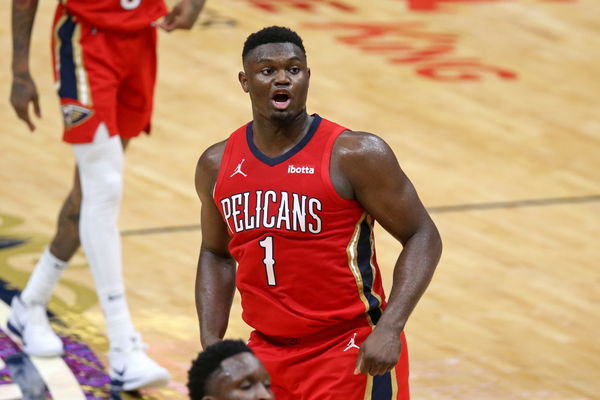 With a squad hit by injuries, the New Orleans Pelicans have been struggling in the 2021-22 season. The main absentee this year, has been former prodigy Zion Williamson. The young forward was one of the most reliable assets for the franchise during his season and a half. But due to the pandemic and some injuries, Zion has been sidelined for a while now. As a result, the Pelicans, currently placed outside the top-10, will have to look for replacements.
Since the 2020-21 campaign, several NBA buffs complained about the growing physical concerns of young Zion Williamson. After all, he had put on some weight, and lost some of his form. Yet, he was being compared to the likes of Kobe Bryant and Shaquille O'Neal, which meant that he had the potential.
ADVERTISEMENT
Article continues below this ad
Having missed the entirety of the 2022 outing, New Orleans is heavily missing him. And now, as a fresh update regarding a potential recruit has emerged, fans aren't impressed in the least.
NBA Twitter erupts as Zion Williamson's absence sparks CJ McCollum rumors
With the market opening up now, the Pelicans are among the sides that require fresh talent. And according to the trusted Eric Pincus, they have found their man. He has reported that the management considers 30-year-old Trail Blazers guard CJ McCollum as the 'ideal veteran scorer and leader'. However, this did not sit well with fans across the globe.
It is easy to understand the frustration of the fans. After all, the management views him as ideal to play alongside Zion and Brandon Ingram. However, McCollum hasn't been in the best touch, and Zion's return date isn't known. While one fan said, "Zion [Williamson] never playing," another went on to comment, "They should go for Tobias Harris instead!" Take a look at the top reactions.
Imagine if the Pelicans picked Ja instead of Zion….

— yvette wood (@yvettewood16) January 31, 2022
They should go for Tobias Harris instead! Hes a taller version of Cj and even played some SG this season! He would be perfect next to Zion!

— Cory Wyatt, Philly Outsider (@insidercory) January 31, 2022
ADVERTISEMENT
Article continues below this ad
No more rumors how about actual trades 😤

— Quod Deus est hic (@MrJmoneyMonarch) January 31, 2022
The Blazers gotta do something, because they get worse every year.

— Legit Lioness (@TheLegitESTBOSS) January 31, 2022
ADVERTISEMENT
Article continues below this ad
Do you think the Pelicans trading for McCollum is a wise move? Who would you go for if you were in their place? Comment below.