Zion Williamson Stands Alone in NBA History With Unique Statistic In His Early Career
Published 02/17/2021, 12:00 PM EST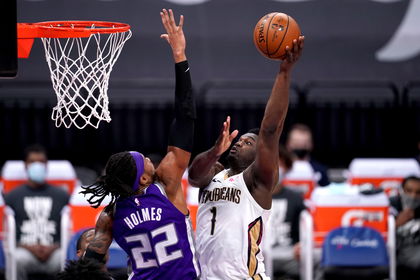 ---
---
Zion Williamson is one of the best young talents in the NBA and it isn't even a debate anymore. His rookie season was plagued with injuries, but he has managed to stay on the court consistently in his sophomore season. This is also the season where Zion is taking a major statistical leap, as proven by his numbers.
ADVERTISEMENT
Article continues below this ad
Zion is averaging 23.6 points through the 50 games he has played in his career. He has done that on ridiculous 60% shooting efficiency, which makes him the first player to have such unique averages after their first 50 NBA career games.
Zion Williamson appeared in his 50th NBA game last night. He has a career scoring average of 23.6 PPG on 60.0% shooting from the field.

He is the only player in NBA history to average 20+ PPG with a 60+ FG% through the first 50 games of a career. pic.twitter.com/dQmkw47WUV

— Justin Kubatko (@jkubatko) February 17, 2021
ADVERTISEMENT
Article continues below this ad
Rookies averaging around 24 points is very rare. While Zion is technically not a rookie, he did just play his 50th NBA game. That is a number most rookies reach just over the halfway mark of their rookie season. While Zion isn't averaging numbers like Luka Doncic in his sophomore season, this is a fantastic start for the young dunk machine.
Zion Williamson: Can he become a high-value championship level player?
Zion Williamson is proving to be a fantastic NBA player. However, there is a clear distinction between players who are walking highlight reels or statistical marvels and players that genuinely impact winning. With how his New Orleans Pelicans have played through his first 50 games, it doesn't look like Zion has figured out the winning part yet.
ADVERTISEMENT
Article continues below this ad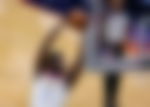 However, this trend is going to be exciting for New Orleans. They genuinely have a superstar on their hands who they can mold a genuine contender around. However, it will be sad to see Zion go the way of players that couldn't ever impact winning in a major way, even though they were providing major highlights. Players like Blake Griffin and Vince Carter fit that build perfectly.
ADVERTISEMENT
Article continues below this ad
But those experiences have tapered the expectation that people have had from Zion. The injuries added to that as well. But now that he seems to be getting his legs under him, he is taking a very scary leap into becoming an elite player.