$215 Million NBA All Star Blurts Out Major Lamar Jackson Take That Could Be a Big Hint on the Ravens QB's Future
Published 01/23/2023, 6:30 AM EST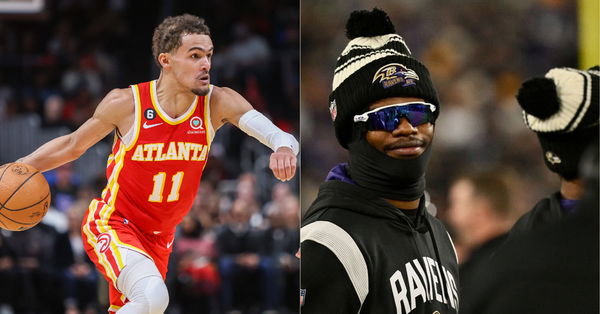 While the NFL playoffs storm the environment, one of the stars of the league might be switching teams. Notably, Baltimore Ravens QB Lamar Jackson could be parting with his franchise. According to several reports, the 2019 MVP sought a larger contract which led to him pausing extension talks. Since then it seems the relationship between Jackson and the Ravens hasn't changed. With no long-term extension yet, Baltimore will probably trade their cornerstone. And NBA All-Star Trae Young has a destination in mind.
Jackson is arguably one of the most skilled quarterbacks in the NFL. Over the seasons, the 26-year-old has significantly improved his arm. However, his most lethal trait is his rushing. Notably, the former First Team Pro Bowl QB is the only one at his position to record multiple 1000-yard rushing seasons. His 2019 MVP conquest shoots him as one of the NFL's best QBs.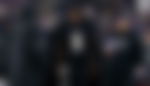 However, the bumps over an extension continue. Before opting into his fifth year, Jackson rejected a $130 million guaranteed contract according to ESPN. The Ravens still haven't found a way to negotiate a deal. At this point, a trade seems to be their best option. With fans arguing over Jackson's future, Trae Young joined the discussion.
ADVERTISEMENT
Article continues below this ad
Trae Young wants Lamar Jackson to join him in Atlanta
After losing to the Cincinnati Bengals in the NFL wild card, thoughts about the future have opened up. Notably, the Ravens have Lamar Jackson on their mind. The 2019 MVP finished couldn't finish a second consecutive season due to injury. In addition, with their contract expectations totally different, trade possibilities have opened up.
Fans have stepped right on. One of them suggested the LA Rams be Jackson's perfect fit. However, Young had another place in mind. Unsurprisingly, he suggested the Atlanta Falcons.
Lamar Jackson's future is sure to create an uproar. The 26-year-old is a generational talent. The Ravens might look for a valuable exchange to go with some draft picks in exchange for their star QB. However, whichever team picks him will have to make a huge commitment. Notably, his high asking price and health remain major concerns.
With that said, can the Falcons make a run for the two-time Pro Bowl quarterback?
ADVERTISEMENT
Article continues below this ad
Can Jackson join Atlanta?
The Falcons have long wanted a star QB among their ranks. Despite arguably struggling at the position, they made it s as one of the top-scoring teams. Out Lamar Jackson into the offensive system, and they might be a lethal side.
Atlanta has a running back duo of Cordarrelle Patterson and Tyler Allgeier. On the other hand, their tight end Kyle Pitts is capable of causing panic.
ADVERTISEMENT
Article continues below this ad
Jackson hasn't completed a full season in the past two years. However, when healthy the 26-year-old star has emerged as one of the best. Several teams have the resources to trade for Jackson. Where do you want him to go? Let us know your views in the comments below.
Edited By: Jayant Chhabra