"If He Was on the Patriots..": Lakers Legend Name Drops Tom Brady's Dynastical Team While Denying Parallels Between Ime Udoka Controversy and a 13x NBA Champion
Published 09/29/2022, 11:30 AM EDT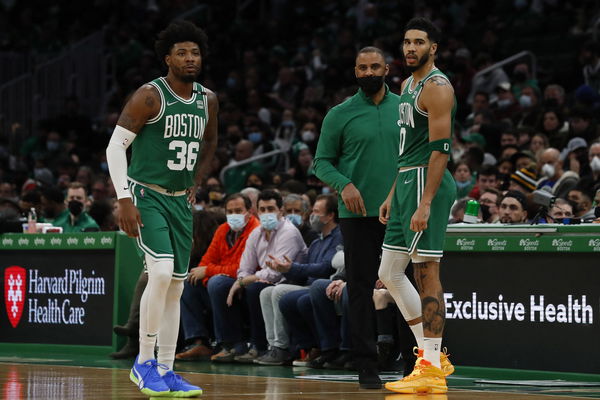 The situation surrounding Boston Celtics head coach Ime Udoka has rocked the organization and its fan base. The Celtics surprised many with their displays in the playoffs as they reached the NBA Finals for the first time in over a decade. And Udoka has been a huge reason behind driving the Celtics to the Finals in what was his first ever year as a head coach. So there were huge expectations before the upcoming season despite losing out the title to the time-tested Golden State Warriors.
But things went south quickly after reports emerged of Udoka having an intimate relationship with a member of the Celtics staff. And he has been since suspended for one year by the Celtics organization for violating the organization's rules. Udoka has been in a long-term relationship with actress Nia Long. They have a son together who was born in 2011. The couple became engaged in May 2015. Long recently broke her silence about the whole ordeal and asked for privacy.
ADVERTISEMENT
Article continues below this ad
Recently, seven-time NBA champion Robert Horry and his crew talked about it during the 'Big Shot Bob with Robert Horry' podcast. Even though Horry and Udoka have never been teammates, they have both played for the Los Angeles Lakers and the San Antonio Spurs.
Robert Horry talks about the Ime Udoka situation and team policies
While talking about the situation of Ime Udoka, Robert Horry revealed some of the questions people have been asking him. "You know what's funny though? I've had so many people come up to me like, 'Why Phil didn't get kicked off the team when he was dating Jeanie Buss?' I'm like 'Because he was DATING Jeanie Buss!'", Horry said.
The crew then stated that Jackson and Jeanie Buss informed everyone in the Lakers management that they were dating. Also, the crew talked about how different teams could have different types of team policies. Horry joked, "If he was on the Patriots, that would have been okay!" 
ADVERTISEMENT
Article continues below this ad
Then a co-host pointed out the New England Patriots head coach Bill Belichick's alleged affair with a former New York Giants receptionist that grabbed headlines.
WATCH THIS STORY – 5 Free Agents Who Once Earned More Than NBA's Highest Paid $160 Million Worth Star Stephen Curry
ADVERTISEMENT
Article continues below this ad
Belichick worked with the Giants from 1979 to 1984. He later became the head coach of the Patriots in 2000. Belichick and NFL legend Tom Brady formed a great partnership and brought success to the organization. Together, they led the Patriots to six Super Bowl wins in nine Super Bowl appearances.
However, things between the two legends were not smooth and Brady signed with the Tampa Bay Buccaneers in 2020. He then immediately led them to a Super Bowl win.