LeBron James, Who Refused to Call Tom Brady the GOAT, Reveals How the NFL Legend Influences His Potential Future
Published 06/16/2022, 6:34 AM EDT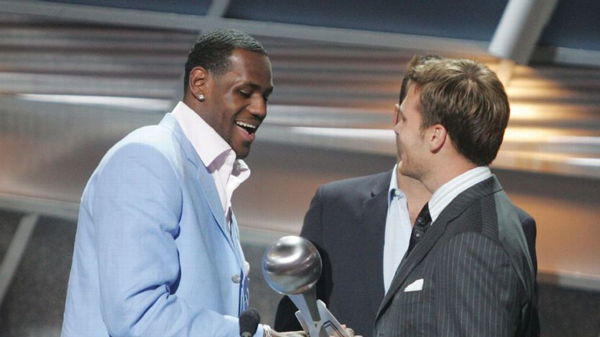 LeBron James has revealed that he intends to join the media as an analyst after hanging up his basketball shoes. King James has also disclosed that this wasn't always his intention. But after watching Tom Brady sign a whopping $375 million contract with Fox Sports, the 4-time NBA champion has admittedly changed his mind.
James has been one of the most successful basketball players in the history of the league. But if anything tops his laundry list of awards and accolades, it's his durability and consistency in the sport. In his 19th year in the NBA, at the age of 37, he still averaged 30.3 points, 8.2 rebounds, and 6.2 assists.
Tom Brady's contract with FOX Sports when he retires from playing is 10-years at $375M, according to the New York Post.

That $375 million is more than Brady has made from NFL contracts in his entire career (about $333M after this season).https://t.co/mglezWm2pb pic.twitter.com/CZvSUsp0LV

— The Athletic (@TheAthletic) May 10, 2022
ADVERTISEMENT
Article continues below this ad
Therefore, it is highly unlikely to see him break down games in a studio anytime soon. But the thought of it is truly exciting for basketball fans all around the world.
LeBron James talks about joining the media
LeBron James gathered around with a bunch of celebrities, like hip-hop star Fat Joe, comedian Amy Schumer, prime-time newscaster Don Lemon and others, to talk hoops on UNINTERRUPTED's The Shop. Responding to a question regarding joining the media after retirement, LeBron said, "Yeah, I would. I would. Yeah, for sure."
After that, he added, referring to Tom Brady's 10-year $375 million deal with Fox Sports, "When I seen how much he signed for, you goddamn right I did."
Afterward, LeBron explained his motivations behind such an idea. He is keen on sharing his immense knowledge of his favorite sport with fans around the world. Moreover, he wants to make NBA fans privy to the key insights into the game that often stays within the closed doors of the locker room.
But above all, he wants to stay close to basketball, "I wanna stay around the game, for sure, forever".
'King James' and Tom Brady
ADVERTISEMENT
Article continues below this ad
LeBron James and Tom Brady have been stalwarts of American sports for about two decades now. The two legends have always appreciated each other's greatness with mutual respect. Even though LeBron has refused to accept Brady as the greatest athlete of all time in the past, for the nature of the sport of football, he has always believed him to be the best quarterback of all time.
'King James' following Brady's lead to the media, would be incredible for the NBA. It will help to grow the sport and make more people interested in the nitty-gritty of the game.
ADVERTISEMENT
Article continues below this ad
WATCH THIS STORY: Did Shaquille ONeal Ever Play For The Celtics?
What do you think of LeBron James as a basketball analyst? Comment below.