WATCH: Giannis Antetokounmpo Does the Shimmy Like Steph Curry After Draining a Three in Practice
Published 10/14/2021, 7:00 AM EDT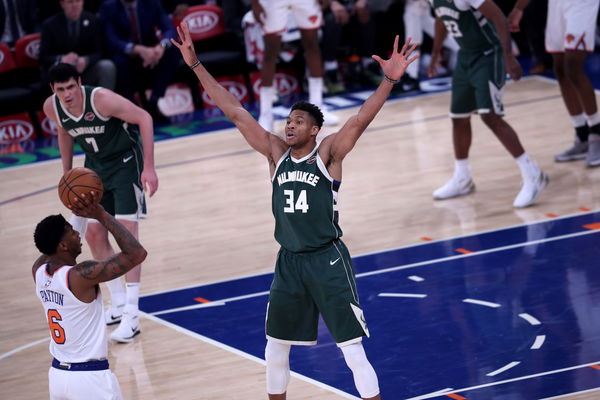 ---
---
The Milwaukee Bucks are the defending champions as they make their way into the 2021-22 NBA season. After 50 years of last lifting the Larry O'Brien Trophy, Giannis Antetokounmpo finally breathed a sigh of relief helping the franchise he has been loyal to for so long win an NBA championship.
ADVERTISEMENT
Article continues below this ad
And now, with the preseason in action, the Bucks have had a decent start so far. They have won three of their four games but what's even more fascinating is their Greek Freek making buckets during practice and pulling off a Shimmy like Stephen Curry.
Giannis Antetokounmpo emulates Steph's shimmy
ADVERTISEMENT
Article continues below this ad
Despite winning an NBA championship last season, the Milwaukee Bucks faced a lot of backlash. Fans, analysts, and even some players believed that other elite teams suffering from injuries could not put up a bitter fight. In the midst of that, the Bucks came out as the better of the worst.
However, that's far from the truth. Considering the numbers Giannis put up and how his supporting cast had his back, the Bucks deserved it as much as any other team that has won the NBA title. With that in mind, they are as much a threat in the upcoming season as they were in the last. But that doesn't mean Giannis and Co. can't have a little fun while preparing for it.
In a recent video of the Bucks' practice session, Giannis was seen dropping some hoops and shimmying his way away from the basket afterwards. This probably reminds everyone of the shimmy that Steph pulled off after his logo shot against the Dallas Mavericks. Looks like Giannis is even more ready to grab another MVP title.
WATCH THIS STORY: Luka Doncic, Giannis Antetokounmpo & Other European Players Who Came Into The League and Rose to Stardom
ADVERTISEMENT
Article continues below this ad
Can the Milwaukee Bucks star bag another MVP award?
Giving the Finals MVP to Giannis last season was a no-brainer. Unfortunately, the Bucks star was unable to get to his third regular-season MVP. This is a feat not many have achieved, apart from three players.
Watch This Story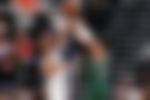 If the Bucks keep up the performance they put up last season, against the even more competitive league, there is a good chance he can. However, there are also many other deserving superstars that deserve him. Nikola Jokic won it the last time, and there is no reason he won't give it a shot this time too. Bucks fans will be hoping to see Giannis shimmy his way to lifting the MVP award as well.
ADVERTISEMENT
Article continues below this ad