Ja Morant, Trae Young & Others React to Nuggets' Nikola Jokic Getting Ejected in Game 4 Against Suns
Published 06/13/2021, 10:38 PM EDT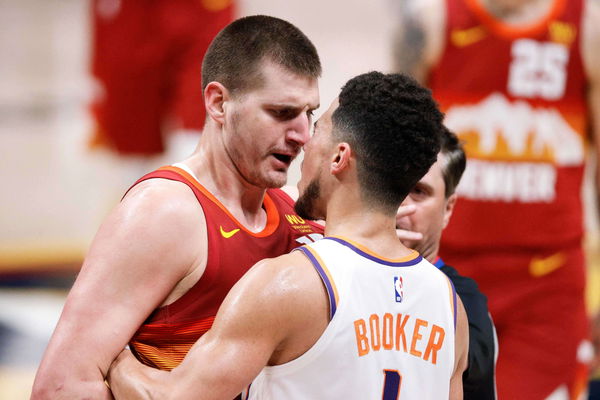 ---
---
As the Denver Nuggets try to come back from an impossible 3-0 deficit against the Phoenix Suns in the Western Conference Semi-Finals, things got heated in Game 4. Nikola Jokic got a flagrant foul on Cameron Payne and Devin Booker was not one to sit around and just watch. As if the game wasn't intense enough, this definitely had Twitter riled up.
ADVERTISEMENT
Article continues below this ad
Nikola Jokic ejection grabs the limelight
The Phoenix Suns entered this game with the mindset for a sweep against Denver. The Nuggets season coming to an end seemed inevitable, and with this season's MVP ejected because of his foul will make it almost impossible for Denver to make any comeback.
ADVERTISEMENT
Article continues below this ad
Nikola Jokic was straight up ejected from the game after his hard blow to the Suns' guard's face on defense, and the aggression of the foul had Cameron Payne's teammate, Devin Booker, furious. He even charged at Nikola for committing the flagrant foul. Both of them were face to face, and there was a war of words.
Although Jokic was tossed out, he was seen showing some affection to Payne after the foul. In fact, this became the highlight of this matchup and had Twitter reacting to it.
WATCH THIS STORY: Kobe Bryant, LeBron James & Other Lakers Legends That Changed Their Jersey Numbers Multiple Times
Phoenix Suns with a clean sweep
After having their best man down, the Denver Nuggets lost all hope to stay alive in the series. The Suns were already the favorites and the most obvious choice to win this series and that's exactly what happened.
Despite Jokic's effort to start the game with fire, the Nuggets eventually slipped and lost their lead in the third quarter. Even with Jokic out, Denver's fourth quarter was applaudable and diminished the Suns' lead to just 6 points.
ADVERTISEMENT
Article continues below this ad
However, Phoenix eventually decided to put the Nuggets out of their misery. After a drama-filled match, it was game over at 125-118 and the Suns ascended to the Conference Finals.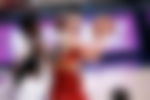 This season's MVP's hopes of being in title contention were crushed faster than they were formed. And an ejection was probably not the way Jokic was planning to finish his season either. Better luck next time for Denver!
ADVERTISEMENT
Article continues below this ad