While Millions Mourn with Magic Johnson, $620,000,000 Rich Lakers Legend Announces Noble Gesture for Minority College Kids
Published 03/12/2023, 6:50 AM EDT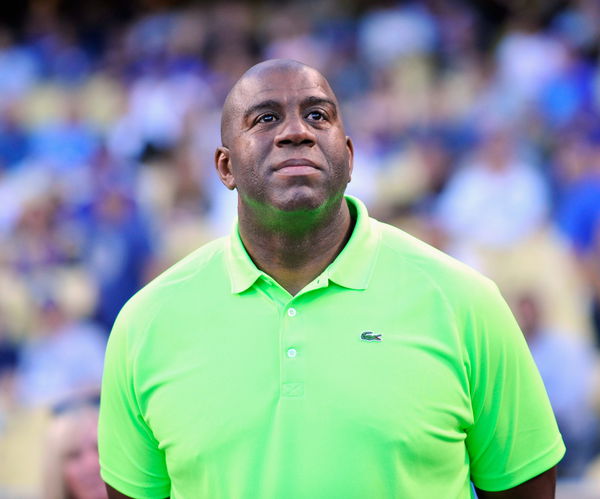 Magic Johnson lost his father at the age of 88 this Wednesday. Earvin Johnson Sr., a Mississippi sharecropper who came to Lansing to find work at Oldsmobile, was the first role model of the former Los Angeles Lakers star. In remembrance, Magic stated that elder Johnson was his biggest supporter, best friend, hero, and idol. Recently, the Magic Johnson Foundation announced a noteworthy gesture for Michigan State University to honor the legacy of Johnson Sr.
Earvin Sr. stood as one of the pillars in the life of the 5-time Champion. Magic, who used to play with his father down the street stated, "He didn't care if I scored 40 points for my high school team Friday night. I had to be up at 6 o'clock Saturday to help him work," emphasizing on work ethic.
Magic Johnson honors Earvin Johnson Sr. by creating a scholarship fund
ADVERTISEMENT
Article continues below this ad
In honor of his dad, Johnson and his siblings have created a scholarship fund in the name of their father with a motive to make it beneficial for the young kids of the university. The Lakers legend said, "My father had a passion and love for Michigan State University, young people, and education" showing his father's love for their hometown. The Lakers icon had gone to college at the same university before he got drafted into the NBA. 
The 5x champion took his Twitter, stating, "My family and I have decided to honor his legacy by creating the Earvin Johnson Sr. Scholarship Fund for incoming minority students at Michigan State University". 
ADVERTISEMENT
Article continues below this ad
He further added, "My father would be so proud to know that we are celebrating his life through philanthropy by giving undeserved students a chance to live out their respective dreams at a university he truly loved, MSU! Go Green! Go, White!"
ADVERTISEMENT
Article continues below this ad
Watch this story: "Michael Jordan, LeBron James, Magic Johnson—NBA stars who lead the list of richest athletes of the world"
The 3x MVP also took time to thank his fans, friends, and supporters for staying by his side during this tough time. Magic Johnson added, "From the bottom of my heart, thank you so much for the outpour of prayers, love, and condolences you've extended to my family and me during this difficult time. We cannot thank you enough for your sincere words, expressions of love, and acts of kindness". 
Edited By: Jayant Chhabra