Kevin Durant Urged Elon Musk To 'Disappear' Stephen Curry Using Massive Net Worth
Published 05/21/2022, 5:30 PM EDT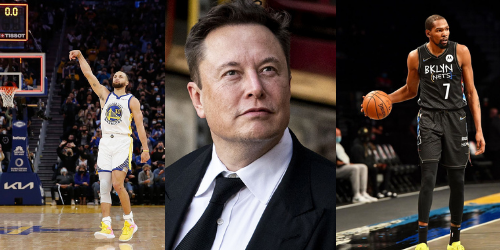 Elon Musk is one of the most remarkable people in the world. He is the richest person in the world and he also owns the biggest private space company. His company has the ability to send people into space. And NBA superstar Kevin Durant had a special request for Musk to disappear the greatest shooter of all time.
Back when they were in Golden State Warriors, Durant and Curry formed the most deadly duo in the league. They won two titles together, and they made the Finals three times in a row. The Warriors were unstoppable when these two were teammates. Off the court, they had a very good relationship.
ADVERTISEMENT
Article continues below this ad
They were two friendly teammates, and they had a lot of fun when they were together. Once when the Warriors were having a Secret Santa for their team, Durant had a special idea as a gift for Curry.
Kevin Durant asks Elon Musk to send Stephen Curry to space
Durant got Steph's name for secret Santa. And he was asked what he thought of a gift. He said, "A ticket on Elon Musk that goes out to space so that he can be one of the first guys to stand on the moon." This was a special request and also a weird one. But this was also a possible gift as SpaceX had just announced that they have plans of taking people to Space and to other destinations as well.
ADVERTISEMENT
Article continues below this ad
WATCH THIS STORY: Stephen Curry versus Roger Federer? Who is richer? 
When Curry and Durant were teammates, the Warriors had two of the top 5 players in the league. And they worked so well together. Curry's unselfish attitude rubbed off on Durant and he became a better passer as a result. The reason the Warriors were so good is that when these two are on the floor, there was no way you could double any of them.
ADVERTISEMENT
Article continues below this ad
These two players are impossible to guard one on one and if you couldn't double them, the chances of winning are drastically less. It was an absolute pleasure to see these two superstars play together and now we get to see them compete against each other.
Do you think Kevin Durant should've stayed at the Warriors? Let us know in the comments!
Edited By: Arunaditya Aima