LaVar Ball Believes His 1 on 1 Matchup Against Michael Jordan Far More Valuable Than Mike Tyson Fighting at 50
Published 11/21/2020, 1:39 PM EST The Michael Jordan and LaVar Ball story keeps taking crazy turns. LaVar has said time and time again that he can allegedly defeat MJ in a 1v1 contest. However, when his son LaMelo Ball was selected by the Jordan-owned Charlotte Hornets, the memes started to flow in.
ADVERTISEMENT
Article continues below this ad
While his son doesn't believe that there is any truth to these claims. LaVar believes if he and MJ were to face off, it should be a pay-per-view contest. Ball further shared his thoughts in an exclusive clip from the 'Club Shay Shay' podcast with NBA analyst Shannon Sharpe.
"Greatness recognized greatness, and that boy went to Michael Jordan. Which I've always been saying, somebody gotta be better than Jordan, why not you? And to be tutored under him? Come on man, this is about to something special."
ADVERTISEMENT
Article continues below this ad
On being asked about the 1v1 battle against MJ, LaVar replied with:
"Well, if you are waiting for it, hear them get in touch with pay-per-view because me and Mike ain't playing for less than $200 million. That's what we say, if you're going to watch Mike Tyson play at 50.
"You don't watch me and MJ play just one on one for pay-per-view only and it better be over $200 million."
If MJ and LaVar were to face one on one, it will be a funny matchup to say the least. However, as much as fans might want to see this matchup, MJ will surely crush Ball in the game. Jordan is regarded as the GOAT of basketball, and not everyone can claim that title.
What's next for the Michael Jordan-owned Charlotte Hornets?
ADVERTISEMENT
Article continues below this ad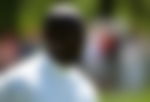 While the MJ vs LaVar rivalry brews off the court, things have not been too good for Hornets on the court. In the 2019-20 NBA season, the Hornets finished with a record of 23-42 which was only good enough for the 9th seed in the Eastern Conference.
But with the addition of a top draft prospect in LaMelo Ball, there is hope that things might change soon for them. Ball could be the cornerstone that the team was dying for and only Kemba Walker was a true star for the team in the past decade.
ADVERTISEMENT
Article continues below this ad
However, even he has left the team due to no success in the NBA postseason. Maybe LaMelo will change the landscape of the franchise in the coming years.
What are your thoughts? Will the Charlotte Hornets bounce back next season with the addition of LaMelo?