"She Said Yes!!!": Former NBA Dunk Contest Champion Proposes to His 7-Year-Long Girlfriend in Paris
Published 01/19/2023, 10:30 AM EST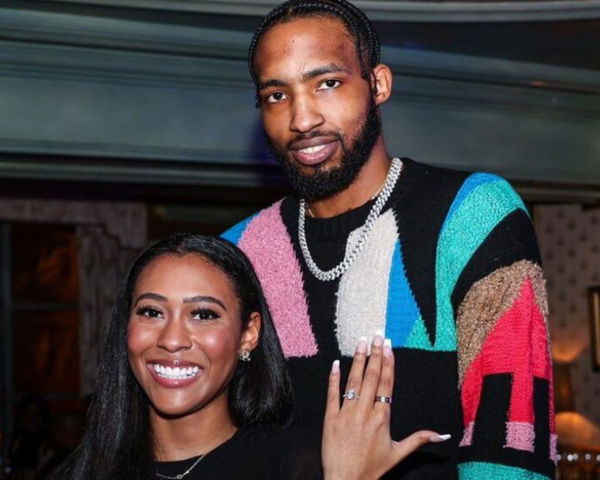 Expanding its international horizon, the NBA set up its second international game for the season. This time, the Chicago Bulls and Detroit Pistons traveled all the way to Paris. It marks the 199th international game in NBA history. While it's a special occasion mid-season, Bulls Derrick Jones Jr. will probably cherish the trip for life. Notably, during the team dinner, the former Dunk Contest champion went on his knees to propose to his girlfriend.
Jones Jr. made a name as a high-flyer during his days with the Miami Heat. The 25-year-old is often caught catching bodies with thunderous dunks. However, the freak of nature is also a family man. The Chicago Bulls forward has been in a relationship with Shakara for the past seven years. Moreover, the live-in couple also has two boys who they welcomed in 2018 and 2019.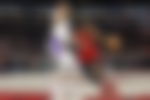 Taking her along for the trip to Paris, the atmosphere felt just right to pop the big question. Taking the mic in front of his teammates, Derrick Jones Jr. is now officially engaged to Shakara as reported by The Chicago Sun Times.
ADVERTISEMENT
Article continues below this ad
Derrick Jones Jr. takes the big leap at NBA International Games
Shakara and Jones Jr. caught the limelight when they were spotted together back in 2016. Since then, the couple has been in a live-in relationship. An outing to the romantic city of Paris might have seemed like a normal vacation for the couple. However, it seems the city of love rubbed off on the Dunk Contest Champion.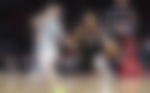 Bravely in front of everyone, Jones Jr. asked Shakara, "Man, it's about that time, so I just got a question for you, Shakara: Will you make me the luckiest man in the world? Will you marry me?" Caught by complete surprise, his now fiance took a few seconds and said, "Hell, yeah."
ADVERTISEMENT
Article continues below this ad
Likewise, the 25-year-old forward was over the moon. After putting the ring on her finger, he screamed, "She said yes!!" twice with joy.
As far as the purpose of his trip goes, the International Games will take place on Thursday. This is Paris' sixth time hosting an NBA game. Apart from the much-heated Bulls-Pistons rivalry, the game is catching buzz for a completely different reason. Notably, as a native of France, future NBA prospect Victor Wembanyama might be in attendance according to the NBA.
ADVERTISEMENT
Article continues below this ad
Watch This Story: Michael Jordan, Shaquille O'Neal, and Other NBA Stars Breaking Backboards with Insane Dunks
After getting the high of being engaged, do you think Derrick Jones Jr. will unleash against the Pistons? Let us know your views in the comments below.
Edited By: Jayant Chhabra