Michael Jordan Takes Tough Stance With Former Colleagues
Published 03/18/2020, 7:04 AM EDT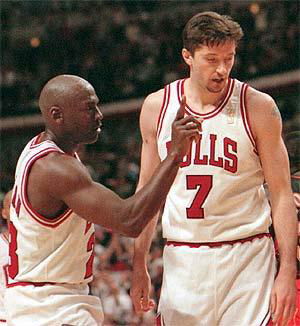 ---
---
NBA legend Michael Jordan was a tough man in the league, and not just physically. He tried to get the best out of his teammates, even if that meant being tough on them.
ADVERTISEMENT
Article continues below this ad
As time went by, the NBA community saw Tom Brady, Peyton Manning, Kobe Bryant and others use this technique to better themselves and those around them. Bryant christened it the 'Mamba Mentality'.
Michael Jordan: Left Out
ADVERTISEMENT
Article continues below this ad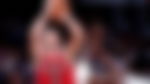 In a recent interview, former NBA player Toni Kukoc was asked about the best teammates he had. Kukoč raved about Pippen and Rodman. However, MJ didn't make the cut.
"If I were picking teammates, I'd pick the two of them first. They would help so much on defense, play unselfishly for you as a teammate, and make you feel so good on the court."
"They were true team players. Pippen was especially helpful to me, a teammate that would never walk out on you. Out of all my teammates, he helped me the most," Kukoc said.
Jordan Stands For His Ways
Michael Jordan was always a tough player to play with. He expected his teammates' best performance. He criticized when the game wasn't going well.
Jordan put pressure of missing a shot once you finally got the ball. He made sure if you missed, you didn't get the ball again.
Talking about Toni, Jordan said, "The things that I get irritated about, like with Toni. He hates to use his right hand. Man, if I knew that was a weak part of my game, that was something I was gonna correct." 
ADVERTISEMENT
Article continues below this ad
Jordan broke opponents and teammates. Being drafted or traded to the Bulls wasn't always good news for players. Everyone knew that failing with Jordan next to them could mean the end of their NBA career.
"Before I got to Chicago, there were stories of a couple of guys, fairly high draft picks that he played with, and he was just on them so hard in practice." 
"Their confidence was shattered, guys needed to be traded. Guys were moved on because they couldn't take the criticism from MJ," said Jud Buechler, who was once, Jordan's teammate.
ADVERTISEMENT
Article continues below this ad
Jordan never cared for anyone's attitude and ignorance. He wanted his team to perform well. He crushed his teammates to get the best out of them, which resulted in the team's success.