WATCH: When Blake Griffin And Steph Curry Met In An Iconic College Duel
Published 12/15/2020, 2:30 PM EST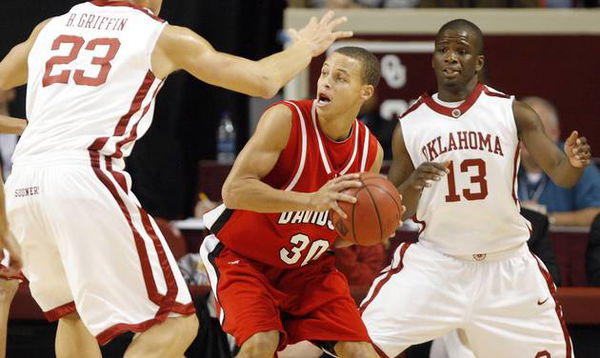 ---
---
Steph Curry and Blake Griffin were two of the most exciting players heading into the 2009 Draft. As we know, Griffin ended up going first overall that year. Meanwhile, Steph Curry fell to number seven. Their careers have shaped up differently. Both have enjoyed a lot of success, but Steph's career has clearly superseded Griffin's.
ADVERTISEMENT
Article continues below this ad
While Griffin is a multiple time all-star and All-NBA player, Curry changed the game of basketball. He made three-point shooting the primary skill for every player, winning two MVPs and three championships in the process. However, Curry wasn't projected to be this influential coming into the league.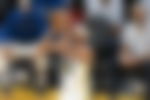 But maybe Curry had given everyone a taste of his ability in college? Wouldn't it be perfect if Curry had a historic night against Griffin, the College Player of the Year, when they met in the NCAA calendar?
ADVERTISEMENT
Article continues below this ad
That is exactly what happened when Steph's Davidson Wildcats faced off against Griffin's Oklahoma Sooners.
Steph Curry: Proving what he could do before anyone pegged him for greatness
Steph and Blake had a war on this night. Griffin opened the scoring in the game with a layup, but Curry kept dishing times to his teammates in the early goings. Curry missed his first few shot attempts, having to go to the line to open his scoring book. They kept trading buckets in a tense first half, which ended with Griffin's Sooners four points in the lead.
ADVERTISEMENT
Article continues below this ad
Oklahoma had gone into the game as the favorites, being the 12th ranked team in the country that year. Davidson were ranked opposition as well, primarily because of Curry's talent. As the game went on, Curry caught on fire. He single-handedly kept Davidson in the game, who were themselves facing a Griffin onslaught. They kept sending him to the line, and he duly responded by converting those shots.
Curry also saw the free-throw line a lot, going there 14 times to Griffin's 12. Both of them missed one shot between them, that coming from Griffin.
ADVERTISEMENT
Article continues below this ad
At the end of the game, Curry had shattered his college's scoring record with a 44 point outing. Griffin had 25 points, but with 21 rebounds in a monster display. That was enough for Oklahoma to take the win and cap this fantastic matchup from 2009.