WATCH: Luka Doncic Comes Up With an Impressive No Look Pass to Maxi Kleber On His Return From Injury
Published 02/13/2020, 3:23 AM EST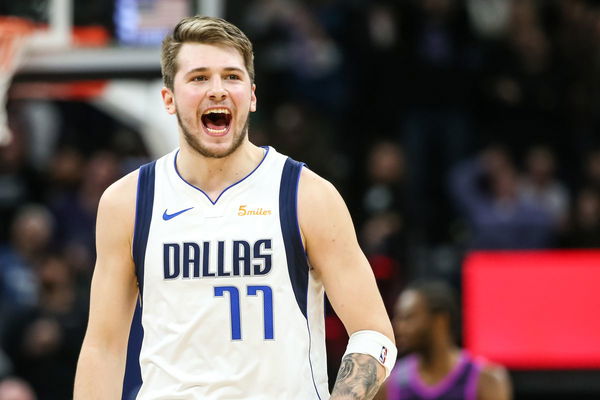 Dallas Mavericks guard Luka Doncic played as if he never left on his comeback from ankle injury on Wednesday against Sacramento Kings.
He started the game brightly. Eight minutes into the game, Doncic supplied one of the assists of the game with a no-look pass to Maxi Kleber from outside the perimeter. Kleber received the ball and jammed it into the net.
ADVERTISEMENT
Article continues below this ad
Luka Doncic and Kristaps Porzingis combine to the good
On his return after seven games, neither did Doncic show rust nor did he disturb the team's flow. He teamed up well with Kristaps Porzingis, leading the Mavericks to a comfortable win over the Suns.
Doncic registered 33 points, 12 rebounds and eight assists on the night while Porzingis contributed with 27 points, 13 rebounds, five assists apart from three blocks.
"It's great that we both had those nights," Doncic said after the game. "We've got to keep working, and we're going to get better and better."
Five of Doncic's eight assists led to points for Porzingis. Their understanding is important for the  Mavericks to perform well deep into the season.
ADVERTISEMENT
Article continues below this ad
"Luka's done a great job communicating to me [about] where I wanna get the ball," Porzingis said. "He's also getting used to playing with me and he's really starting to find me in those spots where I'm comfortable, that midrange area. And slowly these things are starting to click. I think as we keep working, playing together, it's going to get better and better and better."
ADVERTISEMENT
Article continues below this ad
Mavericks coach Rick Carlisle also praised the duo after the match.
"They're two great young players that really do a lot to enhance each other's games," Carlisle said. "The playmaking, communication and eye contact between them throughout the game offensively was fantastic. Porzingis mixed rolls and pops, Luka was driving and stepping back, and they were playing great off each other. It's a great thing to see, particularly heading into the break."