VIDEO: Mark Cuban Learns NBA Suspension During Game, says "Hard to Know What's Right"
Published 03/12/2020, 7:46 AM EDT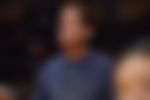 ---
---
Dallas Mavericks owner Mark Cuban was watching the Mavericks vs Nuggets when he was informed about the NBA being suspended until further notice. The news came along with confirmation that Utah Jazz's Rudy Gobert has tested positive for the virus. Mark Cuban, who was interviewed by ESPN, shared his concerns about the fast-spreading coronavirus.
ADVERTISEMENT
Article continues below this ad
It's safe to say that Mark was in utter disbelief when he learned of League suspension:
Mark Cuban's reaction to the news that the NBA Season has been suspendedpic.twitter.com/a41ihhXmdk

— Hoop Central (@TheHoopCentral) March 12, 2020
ADVERTISEMENT
Article continues below this ad
"This is crazy. This can't be true," the Mavs owner told ESPN's Tom Rinaldi during an in-game interview. He said "It's not within the realm of possibility. It seemed more like out of a movie than reality." And thus summing up his initial reaction.
http://https://youtu.be/b2-wU42KJ0c?t=18
Mark Cuban also added that he trusts Adam Silver, the current NBA commissioner. He even thinks that the current situation goes beyond money or basketball, and one needs to think about their family. Now that the league is affected and one of the players has it. The whole situation feels much personal. The league's suspension, though inevitable, came sooner than expected.
"This is not a situation where you fake it 'til you make it or try to sound or act important," Cuban said after the game. "The NBA has hired people with expertise in those areas and they are working with people from the government and other people with expertise. We have to defer to them and that's exactly what we will do."
http://https://youtu.be/vUB5DST4z-E?t=1
ADVERTISEMENT
Article continues below this ad
NBA Suspended: Rudy Gobert tests positive for coronavirus
With the NBA suspended indefinitely, all people who have been in contact with the Utah Jazz will most likely be tested. NBA's statement was made right before the Utah Jazz and Oklahoma City Thunder game began on Wednesday night. Everyone from players to executives associated with both the teams will be tested for the virus. Athletes on teams that have played matches against Jazz in the past 10 days – including the Detroit Pistons, the Cleveland Cavaliers, the Boston Celtics, the New York Knicks, and the Toronto Raptors – have also been asked to self-isolate.
ADVERTISEMENT
Article continues below this ad